Under Construction
Read more about how
downtown and base-area construction
is transforming Steamboat Springs.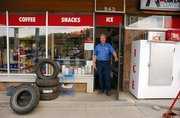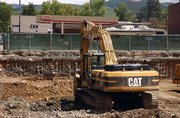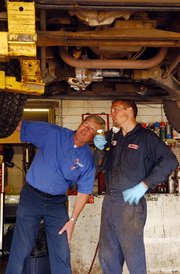 Steamboat Springs — Bob Logan is not a big fan of rumors.
"The fact is we are not under contract, and we are not listed for sale," said Logan, who recently celebrated the 30th anniversary of his business, Bob's Downtown Conoco/ American Car Care Centers at 942 Lincoln Ave.
Logan understands why the rumors are out there.
"I am assuming any landowner in downtown has been approached," Logan said. "This is a great corner."
Logan said Steamboat is going through "a big cycle" right now in terms of change and revitalization of numerous downtown properties.
"What's coming out of the ground is going to blossom," Logan said. "It's going to be something beautiful."
Across the street from Bob's Conoco, construction equipment is working on The Victoria, a 32,000-square-foot commercial and residential development. The site once was the location of Ray's Texaco gas station, which was operated by the late Ray Barrows. Most recently, the property was home to Rocky Mountain Wine and Liquor Co.
Logan said his property has been a gas station since at least 1955. When Logan bought the gas and service station in 1977, a Chevron station was directly across 10th Street. It was one of nine downtown gas stations.
"I was told I wouldn't last 90 days," Logan said, because of all the competition downtown.
Logan proved his doubters wrong.
With the recent closing of the Shell gas station at Third Street and Lincoln Avenue and the Go-Fer Foods gas station and convenience store at Seventh Street and Lincoln Avenue, Bob's Conoco is the last gas station open downtown.
That has translated into increased gas sales, as well as more walk-in traffic. Cigarette sales have increased - Bob's Conoco is one of the few places you can buy them downtown.
On top of selling gas, Bob's Conoco is a popular place for locals to have their cars repaired.
"Everyone knows who Bob is," said Don Hosman, who has worked for Logan for 24 years. "We like to take care of the customer, and that's what brings them back."
Hosman called the gas station and service station combination "a dying breed" in America.
Steamboat Springs City Council member and preservationist Towny Anderson said Bob's Conoco is iconic of the days when Steamboat Springs was an "automobile town" that was gearing itself for the automobile traveler and motorists passing through on the way to Salt Lake City, Utah, from Denver.
"The unfortunate thing is the land is just too bloody valuable," Anderson said. "It's just a matter of time (that it will be sold) unless we want to enshrine it."
At 56 years old, Logan said he has no immediate plans to retire.
"Every day is still a gift for me," Logan said. "I feel fortunate to be in business in Steamboat."
He said he still has the passion to work on cars and to help people, and he has not felt pressured to sell.
Logan said there have been numerous people throughout the 30 years who have inquired about purchasing the 17,500 square feet of prime downtown real estate. This year, Logan said three groups and one individual have inquired about the property he owns with his wife, Mary Jane Logan.
Developer Jim Cook said he has talked to Logan and his wife about the property, a move Cook said was prompted by the revitalization of downtown.
"Its desirability will be enhanced as we continue to extend the downtown area," Cook said. "When he decides to hang up his Snap-on tool belt, he'll get the highest and best value out of his property."
Bob's Conoco presents a distinct hurdle for extending the downtown shopping corridor, Cook said, because when shoppers reach the gas station, they stop and turn around.
"While it provides a valuable service in the community, it's not retail," Cook said. "What we want to see is a lively retail environment from one end of town to the other."
There is an appropriate place for businesses like Bob's Conoco in downtown, Cook said, but not necessarily on Lincoln Avenue.
"Do we want to push Bob's Conoco out of downtown? Not at all," Cook said.
Logan said the decision for any downtown property owner to sell, including himself, requires balancing the "opportunities versus what you're doing, and what's best for my family."
"I don't like to go into the 'but if,'" Logan said.
He said he thinks there still is demand for a gas and service station downtown. "I've never had a customer come in and say, 'Why are we still here?"