Officials looking at regional South Routt shuttle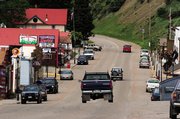 Steamboat Springs — Every day, South Routt Superintendent Kelly Reed watches hundreds of Stagecoach and Oak Creek residents climb solo into their cars clog Routt County Road 14 and Colorado Highway 131 with traffic for the trip to Steamboat Springs.
It's a problem with a potential solution, Reed said.
"During (my) tenure it has become apparent there is an immediate and growing need for public transportation in our area," he said.
On Tuesday, Reed spent about 10 minutes asking the Routt County Board of Commissioners to consider reinstating a regional South Routt public transportation system that would include stops in Oak Creek and Stagecoach and could possibly include service to Yampa and Phippsburg.
"Obviously, I approached it from the interest of the school district, but it goes far beyond that," Reed said. "I think there's a need there right now that would justify having a service like that in our community."
County Commissioner Nancy Stahoviak said the board was receptive to looking at Reed's request, but noted similar attempts at providing regional transportation had failed in the past.
"The ridership was not supporting that service," she said. "At the end of that service, we were lucky if we even had one rider."
Stahoviak said Routt County Manager Tom Sullivan is preparing a series of surveys designed to gauge interest from South Routt residents about implementing a regional transportation system. The surveys likely will be printed in the Oak Creek and Yampa town newsletters and presented at South Routt Economic Development and Stagecoach Property Owners Association meetings.
"We would be willing to see if there's an interest in the South Routt community to implement something like this with the growing population and the number of people that live in South Routt and commute to Steamboat," she said. "We need to see if there's a desire out there for this type of service."
Reed said he has heard people willing to support a regional transportation system similar to what Steamboat Springs Transit provides for Craig and Hayden.
"I'm coming from a fresh take that the growing population of Stagecoach and Oak Creek, especially, at least justify another look at implementing something like this," he said. "I don't know what to expect, but nothing tried, nothing gained."
Jonathan Flint, operations manager for SST, said it could be a challenge to provide a regional service to South Routt and North Routt because of ridership, scheduling and the amount of time it would take for riders to get to Steamboat.
"The difficulties we have in regional service is timing, because in Steamboat there's a variety of work here with people on a variety of schedules," he said. "Our regional service with Craig and Hayden works because there are enough people to support it and because people are not arriving any later than they would have in their own car."
However, Flint said providing such a service is not out of reach.
"It's still something we're looking at, especially as these areas continue to grow," he said. "It's a matter of watching the factors."
Stahoviak said South Routt residents interested in the transportation service should fill out the surveys and return them to county offices in Steamboat or call 879-0108 to express support.
"Once we get the information about how much support there is, we'll evaluate that and decide if we could implement something with our 2008-2009 budget," Stahoviak said.