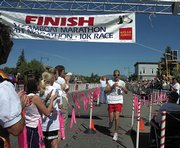 Steamboat Springs — Prospective runners are always thrown for a loop when they peruse the downhill profile of the Steamboat Marathon. Sunday's 26.2-mile race starts at Hahn's Peak Village and winds down the Elk River Valley (Routt County Road 129) to the Routt County Courthouse lawn for a net loss of 1,400 feet in elevation. But the hilly and winding course is no cake walk.
The Steamboat Marathon, which runs along a U.S.A. Track and Field-certified course, recently was named the 2006 Marathon of the Year by Colorado Runner Magazine. The popular run offers its challenges, and spectators should keep their eyes on a select handful of acclimated locals.
Steamboat Springs' Andy Picking, the reigning overall point winner of the Steamboat Springs Running Series, plans to race this weekend. Picking grabbed second-place marathon honors last year with a personal best on the course.
Picking has not slowed down, wrapping up a podium finish at the first Running Series event of the year May 5 while he pushed a stroller and ran with his two dogs.
"Andy and I ran up Rabbit Ears Pass with Martin (Ilott) - that guy who was running across the country," said Steamboat's Gary Gianetti. "We ran all the way up to the West Summit with him. It was a lot of fun."
Gianetti may be a dark horse contender to upend Picking's claim to the top local time. He's confident he has logged the necessary miles this spring - running in the late-April Boston Marathon and pedaling 220 road miles last weekend.
Still, both competitors face some stiff competition. Six-time Steamboat Marathon winner Jason Saitta returns after winning last year's race with his own personal best time of 2 hours and 37 minutes.
But that may not be fast enough for a repeat win.
Matt Windt, special events director for the Steamboat Springs Chamber Resort Association, said a Chicago-area runner who's scheduled to compete will be hard to beat if he can get anywhere near his fastest time of 2:26.
On the women's side, Windt said that no semi-pro, elite-level racers of Saitta's caliber would be racing. This leaves the door open for Angie Mangiardi to improve on her time of 4:01, which earned her the top local finish last year and fifth place in her division. Mangiardi recently helped a Steamboat-area team win the 24 Hours of Utah running race.
Windt said the Half-Marathon and full marathon are capped at 1,000 and 500 participants, respectively.
Windt said there's still room for a few last-minute entries in the full marathon. Check-in/bib pick-up for the half and full marathons as well as the 10K registration is from 10 a.m. to 5 p.m. today at Christy Sports in Central Park Plaza. Tickets also will be available to the Pasta Dinner at 6:30 p.m. today at the Steamboat Springs Community Center, where acclaimed marathoner Kim Jones will speak.
The 10K Run/Walk (which has no limit on participation) will be along the same paved course as last year, starting at 7:30 a.m. Sunday from the courthouse. Points will not be counted toward Running Series standings.
The Honey Stinger Fun Run (half-mile paved course for children 5 and younger) starts at 11:45 a.m. at the courthouse. Free registration is on-site, starting at 11 a.m.
The westbound lane of Lincoln Avenue will be closed from 6 a.m. to 3 p.m. Sunday between Fifth and 11th streets, with each of these side streets closed between Lincoln Avenue and Oak Street.
Windt encouraged spectators to watch the finish from these street locations on the north side of Lincoln Avenue. He also said residents heading into town Sunday morning from North Routt should expect a 45-minute delay as southbound traffic on C.R. 129 will be diverted onto C.R. 44. All races (except the Fun Run) start at 7:30 a.m. Sunday, and the awards ceremony will be at 12:30 p.m. at the finish area.
Visit www.steamboatmarathon.com for complete details and traffic control maps.