Hayden water OK to drink
Officials say town samples show no sign of contamination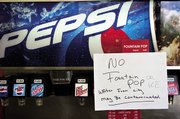 Steamboat Springs — Hayden's water supply is again safe to consume, officials said Friday afternoon.
Hayden Town Manager Russ Martin said several town water samples, which were tested for contaminants after a problem at the town's water plant Thursday, did not test positive. Town officials spent Friday evening rushing around town posting fliers advising residents that the water was safe to use again.
"We never believed the public's health was ever in danger, but (state) officials require us notify our residents even if there is a slight possibility of contamination," Martin said.
Martin said only about half of the town's residents were affected by the Tier 1 drinking water warning. That warning was issued because the quality of the water supply was unknown and because there was an increased chance that water could contain disease-causing organisms.
The state-mandated order came after town officials realized something was wrong with the water supply early Thursday morning, Martin said. A valve regulating water flow to a portion of the town's residents apparently became stuck Wednesday night, draining a tank and allowing water pressure to drop, he said.
The plant's alarm system went off at about 11 p.m. Wednesday but did not continue to sound, which led officials to believe the problem had corrected itself.
"Those alarms go off all the time, and the problem usually corrects itself," he said. "The issue we're dealing with isn't the quality of our water, but why the alarm didn't repeat itself every 15 minutes as it was supposed to. We're working on that."
Martin said the valve could have malfunctioned for "a variety of reasons."
Mike Zopf, director of Routt County's Department of Environmental Health, called Hayden's water issue a "relatively minor incident."
"The concern with any water distribution system that is pressurized is the chance that the water supply can become inadvertently contaminated when pressure drops," he said.
Zopf said water coming through private residences can contaminate the town's entire water system with bacteria or chemicals if pressure drops and the water flows back into the system.
"Hayden's situation never got that bad," he said. "They're just being cautious."
Zopf tested five water samples from around Hayden at the county's laboratory, which is state certified.
"As far as I'm concerned, they all look perfect," he said. "The water is fine."
That was good news for Dusty Zabel, who manages Wolf Mountain Pizza.
"Since (Thursday), it's been a bit of an inconvenience for us because we've had to use stove water and distilled water for our (pizza) doughs and sauces and for cleaning," he said. "We've had to take extra measures to keep things safe."
Zabel said business Wednesday night was busier than normal because some Hayden families weren't able to use water for cooking.
"We've been doing fine because a lot of people were getting pizza since they couldn't cook," he said. "It's been interesting watching people lug big jugs of distilled water out of the Kum & Go."
Martin said he wanted residents to know that the quality of the town's water is not in question and that the town will be drinking and using the freshest water available because the tank was drained and refilled.
"We flushed the entire main tank, which people should feel good about because they're probably drinking the freshest water in the Yampa Valley," he said.
Martin said Thursday's incident was a "fluke" and hopes residents continue to trust the town's water system.
Public Works Director Frank Fox "has been here 21 years and he has never seen anything like this before," Martin said. "It's been frustrating for the town because people are questioning our ability to produce good, quality water, when that was never the issue."
- To reach Alexis DeLaCruz, call 871-4234
or e-mail adelacruz@steamboatpilot.com