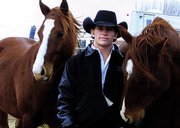 Steamboat Springs — Travis Darling will get a degree in bronc riding.
The former Steamboat Springs resident, who spent the past three years attending Ignacio High School near Durango, signed a letter of intent to participate in rodeo for the Casper College Rodeo Club in Casper, Wyo.
Darling, who is trekking around the state and region on the Colorado State High School Rodeo Association, said signing his name concluded a lifelong dream.
"This has been my dream," Darling said Friday before taking to the chutes at a rodeo in Rocky Ford. "I've wanted to do it since I hit the ground. My dad was a pickup man for quite a while and got me involved in it."
Darling will compete in saddle bronc riding for Casper.
Last year, he finished second in the state in saddle bronc riding and then eighth at nationals.
Darling started receiving attention from colleges after his finish at nationals. While he had several offers, he said he felt most comfortable with Casper rodeo coach Tom Parker.
This year, depending on the draw of horses, Darling said he's anticipating a better finish at the state and national finals.
"I think I can contend," Darling said.
Of course, to make nationals - which take place July 23 to 29 in Springfield, Ill. - Darling will have to perform well at the state rodeo finals in Golden on June 21 to 24.
"All year you chase points and then it all boils down to how well you do there," he said.
Prior to the start of Friday's rodeo in Rocky Ford, Darling was ranked No. 3 in saddle bronc riding and No. 1 in horse cutting by the Colorado State High School Rodeo Association.
Horse cutting gives participants two and half minutes to cut at least two cows from a herd.
Darling also was a three-time state wrestling qualifier for Ignacio. He finished fourth in 2006 at 135 pounds and third this year at 140 pounds.