Past Event
Friday, June 1, 2007, 5 p.m. to 8 p.m.
Artists' Gallery of Steamboat, 1009 Lincoln Ave, Steamboat Springs
Not available / Free
Photo Gallery
Summertime Exhibit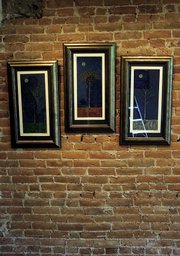 Steamboat Springs — Don't mind if Melanie Guerra doesn't make eye contact because she is too busy looking at people's ears, fingers and necks.
Such is the life of a jewelry designer.
"Once I decide what to use, it can go very fast," Guerra said. "A piece can take 20 minutes or it can take all day."
Guerra is one of three artists who will be featured in the opening reception "Summertime" from 5 to 8 p.m. today at the Artists' Gallery of Steamboat.
The 26 artists who own a share of the gallery rotate into the front room monthly as the gallery's featured local artists, and Guerra, Leslie Bell and Bert Kempers are pleased it is their turn.
Tuesday was hanging day at the gallery, and Bell was watching as several of her pieces went up.
"In one way or another, I've been an artist all my life," Bell said.
Many of Bell and Kempers' pieces feature nature in its myriad of shapes, colors and textures.
Kempers often paints a place he has personally visited or photographed since he spent the early part of his life making films and taking still photos.
A stunning oil painting of Denali was hung neatly on the wall Tuesday. The snow-covered peak towered over a lake. At the base were brilliant reds and greens reflecting the lavish plant life around the Washington mountain.
Kempers said his paintings are "about 50-50" between oil and watercolor.
Bell uses even more painting styles because nature's colors can't be fully portrayed by the same paint each time, she said.
For example, several of Bell's paintings feature aspen trees, but the blending of colors on the trunk can be done best with watercolor, but the distinct white bark and black knots is done best with oil. Both styles of paintings are hanging in the gallery at 1009 Lincoln Ave.
Her best selling piece is part of her Moonlit Series, which are pictures of trees beneath the moon. The trees are painted on silk, creating a unique texture as if Bell dropped individual droplets of paint on the entire canvas.
"I just happened to grab silk and ended up with this crazy texture," she said. "It looks like night."
Today's opening also will feature an ice cream social to kick off summer.