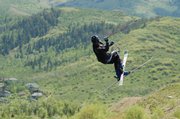 Steamboat Springs — After hosting a three-day camp with the U.S. Freestyle team, the freestyle complex at Bald Eagle Lake will open summer programs Saturday.
Steamboat Springs Winter Sports Club Freestyle Program Director Erik Skinner said the opening weekend is open to anyone with a United States Skiing Association membership at a cost of $5.
Various one-, two- and three-day programs will continue throughout the summer. There will also be several open sessions.
"Last year, we had 85 regulars use it on a weekly basis," Skinner said. "Other teams also come in and use it for camps as well as the U.S. team using it several times a year."
The facility is a state of the art summer jumping area and brings in athletes from all around the region. It's one of three in the United States, the others being in Lake Placid, N.Y., and Park City, Utah.
Skinner said for the U.S. Freestyle team to come in and kick off the season is an important tool for the Winter Sports Club to have.
Now, he said, is when jumpers work on and perfect tricks before getting to the snow in the winter.
"It's a progressionary program," he said. "It allows athletes safer training so when they take it to the snow they already have a huge number of jumps in. It's so they're not trying new tricks in the winter."
The time with the U.S. Freestyle team also gives Skinner and his coaches a chance to see what the U.S. Freestyle team works on and relate it to their coaching.
"It was great for our kids to watch the best in the world train," Skinner said. "It allows them to see how to do tricks, and it's great for our coaching staff. It guides our training towards the U.S. team."
Those interested in participating in the programs, or getting their children involved, should go to the Winter Sports Club for more information.
The freestyle complex at Bald Eagle Lake features five jumps varying in difficulty and two trampolines.