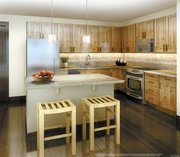 At a glance
Condominium hotel units at Trailhead Lodge are being sold furnished.
The prices for condominiums at Trailhead Lodge began at $430,000 for studios and topped out at $2.25 million. Of the remaining 24 units for sale, the majority are in the mid-range - $1.1 million to $1.3 million.
Steamboat Springs — The developers of Trailhead Lodge in Steamboat Springs put $56.6 million in real estate under contract during the span of six hours Wednesday in Denver.
Brent Pearson, vice president of Resort Ventures West, confirmed Friday his company has sold 62 of the 86 units in the condominium hotel, which is part of the 47-acre Wildhorse Meadows project near the base of the Steamboat Ski Area. It won't begin construction for another year.
"This is real hard money," Pearson said. "These are sold units."
The buyers already had committed 10 percent deposits two months ago, Pearson said, and will be required to come up with another 10 percent next summer when framing construction is under way.
Prices for the fully furnished condos began at $430,000 for studio units and climbed to $2.25 million for three-bedroom units.
Realtor Colleen de Jong of Prudential Steamboat Realty attended a contract-signing event for Trailhead at the Denver Botanic Garden on Wednesday. She purchased a unit on behalf of a client, acting with power of attorney.
She said her client, who owns a second home in Steamboat and a single-family building lot in The Range at Wildhorse, purchased a condo as an investment. Because he already had a business relationship with Resort Ventures West, she said he had a favorable position in the buyer selection process and was able to acquire his second choice of condominium units at Trailhead.
De Jong, who has been in Steamboat since 1978, said she's never seen anything comparable to Resort Ventures West's ability to put $56 million in real estate under contract in half a day.
Pearson confirmed that, although he and his partners were optimistic about their prospects for the event, the results exceeded expectations.
"If I said I didn't think we'd do quite well, I'd be lying," he said. "I thought we were properly prepared, and we're definitely very happy."
Resort Ventures West hosted the contract event with the help of S&P Destination properties, a real estate and marketing firm that is acting as a "strategic partner."
Pearson said the sales activity was especially "fast and furious" for the most and least expensive units in the project.
Although units remain in all categories, he said most of them are in the mid-range - between $1.1 and $1.3 million.
Trailhead will be adjacent to the lower terminal of the people-mover gondola that will provide direct access to the ski base.
"There's no question the success of Trailhead will be a large turning point in what goes on the rest of our project," Pearson said.