Updating airport plan
Residents interested in hearing an update on the Steamboat Springs Airport Master Plan are invited to attend a meeting from 7 to 9 p.m. July 26.
George Krawzoff, the city's director of transportation, said Armstrong Consultants, the company tasked with updating the Master Plan, will provide information at the meeting. Public comment will be welcome, he said.
The meeting location is tentatively scheduled at the Transit Operations Center, 1463 13th St.
Krawzoff said interested residents should look for advertisements next week if the location is changed.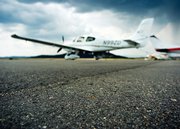 Steamboat Springs — Pilots and passengers planning on using the Steamboat Springs Airport the week of July 23 are going to have to make alternate travel arrangements.
Airport Manager Mel Baker announced Wednesday that the airport will be closed from July 23 to July 27 for routine pavement maintenance.
"It's always an inconvenience to the travel business when you close an airport, especially since these are some of our busiest months, but it's something that has to be done when it's warm," he said.
The maintenance will include fog sealing the runways, taxi lanes and the apron parking. The runway, connectors, north ramp and taxiway will be re-marked during the project, he said. All of the airport's operating surface will be affected by the maintenance except for a concrete ramp.
Baker said although it is inconvenient, the advantage of maintaining the airport's pavement will pay off in the future.
"This will extend the pavement life for many years to come," he said. "The (Federal Aviation Administration) likes to see its investments taken care of, as well as the investments of this community."
Baker said he is planning to send notices to 150 pilots who use the airport informing them of the closure.
"We're trying to get the word out the best we can that if you're looking to relocate your aircraft, now's the time to do it," he said.
Yampa Valley Regional Airport officials have been notified of the closure, Baker said.
"I'm sure they're expecting some increased traffic that week as a result of our closure," he said.
Baker said any aircraft left on the airport field will be relocated and parked on the concrete ramp during the project.
If weather cooperates, the project could be completed one or two days ahead of schedule, he said.
The project, which is expected to cost about $158,000, is being funded with 2007 FAA entitlement money, funds from the Colorado Aeronautics Board and about $4,000 in local funds.