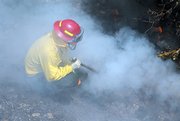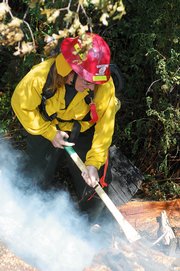 Fireworks, cigarettes found near Hayden fire
Two juveniles were seen running from a brush fire in Hayden on Monday afternoon, and investigators found evidence of cigarettes and fireworks at the scene.
The fire was reported shortly after noon Monday in a grassy area north of the intersection of Lincoln Avenue and Third Street in Hayden. The fire was near railroad tracks and an abandoned boxcar.
West Routt Fire Chief Bryan Rickman and Routt County Emergency Management Director Chuck Vale responded to the fire.
"It would appear cigarettes and fireworks contributed," Vale said. "It illustrates how dry the grass was."
Hayden police Chief Ray Birch said three eyewitnesses were interviewed, but that the juveniles have not been identified or located. Vale said the juveniles could be charged with the cost of suppressing the fire, which was extinguished quickly and was contained to about two-tenths of an acre. The nearest residences were at least 100 yards away, Birch said.
Vale said the fire appeared to be intentionally set, but the incident still is under investigation. The fire is now under investigation by the Routt County Sheriff's Office. The fire was on land just outside the town limits of Hayden.
- Brandon Gee
Steamboat Springs — A small wildfire in the backyard of a home near the Steamboat Ski Area was extinguished Tuesday before it could cause any structural damage.
Steamboat Springs Fire Rescue firefighters were dispatched to a vacation rental home at 2749 Ridge Road at about 2:30 p.m. Tuesday because of a report of a wildfire. The area just off Burgess Creek Road is thick with vegetation, including pine trees.
Firefighters quickly extinguished the flames, but it took longer to extinguish a large smoldering log. Assistant Fire Chief Bob Struble said the log likely was smoldering for days, but officials aren't sure what caused it to begin burning.
Struble and property manager Heather Craigen said it was fortunate workers doing landscaping at the home saw the flame. Because the home is used as a vacation rental, there aren't always people there to report problems.
"We got extremely lucky that we didn't have high winds or go up the hilltop or catch the home on fire," Struble said. "We're very fortunate someone was there."
Craigen said the landscapers used water from the home's hot tub to try to put down the fire while the waited for firefighters to arrive.
Craigen also said the fire singed the wooden stairs leading to one of the home's decks.
Also Tuesday, Routt County Commissioners declared fire restrictions in unincorporated Routt County. Routt County Emergency Management Director Chuck Vale was at the fire and said wildfire conditions are similar to what they were in 2002, when wildfires were rampant in Northwest Colorado.
"It's extremely dry, and we really need to be careful," Struble said.