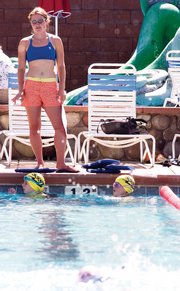 No consensus
Members of the Recreational Needs Exploratory Committee, which for the past two months has worked to further define local recreation needs, said Tuesday their group reached no consensus about how or where to expand local recreation facilities.
Monday's Steamboat Today said the committee recommended a $34 million center at Ski Town Fields, citing a report submitted to the City Council by Chris Wilson and Susan Petersen of the city's Parks, Recreation and Open Space Department. The report was submitted to the council "through" the committee, which Wilson said is a "conduit" to the council, not a recommending body.
Several committee members disagreed with contents of Wilson's report.
"We haven't made any recommendations," said Bette Van Dahl. "There was no consensus at all."
Steamboat Springs — A $34 million recreation center at Ski Town Fields, with pools, will be on the ballot for Steamboat Springs voters in November.
The Steamboat Springs City Council voted, 3-2, Tuesday night to select the Pine Grove Road site, near The Tennis Center at Steamboat Springs and the future Wildhorse Meadows development, as the potential location for a consolidated recreation facility. If approved by voters, the facility would include space for youth and teen programs, an indoor playground, a double-sized gymnasium, a fitness center and aquatic features including a six-lane lap pool, diving well and leisure pool.
City Council President Susan Dellinger, Councilman Steve Ivancie and Councilman Loui Antonucci voted in favor of the ballot issue. Councilman Towny Anderson and Councilwoman Karen Post voted against, both expressing support for recreation facilities at Howelsen Hill.
Councilman Paul Strong was absent, and Councilman Ken Brenner recused himself from the proceedings due to his affiliation with the Old Town Hot Springs recreation facility in downtown Steamboat.
The future of that facility spurred much of the debate Tuesday night.
Pat Carney, director of the Old Town Hot Springs, said a recreation center at Ski Town Fields with water and fitness facilities would be "very detrimental" to the Old Town Hot Springs.
"I feel like we're going to be fighting it out for members," she told the City Council.
"I really have concerns about what this is going to do to Old Town (Hot Springs)," Antonucci said. "But unfortunately, the numbers don't work."
Recreation consultants hired by the city in January told the City Council that building expanded aquatics at Old Town Hot Springs, plus other recreation features at Howelsen Hill, would cost more than $45 million. Such a plan also would require secondary road access from the adjacent U.S. Post Office parking lot and a bridge over Spring Creek.
Secondary access to a recreation facility at Howelsen Hill would require tunneling or excavation from Howelsen Parkway to 13th Street, a project that has long been considered by city officials as a potential bypass for U.S. Highway 40 traffic.
Anderson, an "unabashed supporter of downtown," said building at Ski Town Fields would be the easy way out - avoiding harder, but worthwhile, work to build recreation facilities downtown, he said.
"I don't question the need for facilities, I question the creativity with which we've approached it," he said.
Ivancie, the most unwavering supporter for a Ski Town Fields recreation center, said Howelsen Hill already is a busy location not suited for a new, large-scale facility.
"It's like trying to put 10 pounds of flour into a five-pound sack, when it comes to Howelsen," Ivancie said. "I think it would be doing too much out there."
In voting for a consolidated recreation center at the Ski Town site, Dellinger said she was going against her personal wishes but supporting the recommendation from consultants.
Dellinger also said she doubts voters will approve the recreation center.
"I think people will hear the dollar sign, and that will be the end of it," she said.
"I think it's going to be a lot of work to get $34 million passed," echoed Antonucci.
An energetic group of parents and community members, several with children on Steamboat Springs' summer club swim team, disagreed.
"The people want it," said JoEllen Heydon, the chairwoman of Citizens for a Community Recreation Center, or CCRC. "Let's let CCRC, with all their passion, campaign for it."
That campaigning will take place during the next several months, as designs for the recreation facility are finalized. Financial aspects, such as proposed user fees and the tax structure that will fund the center, also have yet to be decided.
A huge decision about the future of local recreation is now in the hands of Steamboat citizens.
"It's up to the voters," Ivancie said.