November ballot taking shape
The withdrawal of City Councilman Ken Brenner from November's election further opens up a ballot that could significantly change the Steamboat Springs City Council.
Five council seats will be on the ballot in November.
The council's seven total seats include two representatives each from District 1, District 2 and District 3, as well as one at-large seat.
District representatives serve four-year terms. The at-large representative serves a two-year term.
The term of Councilman Steve Ivancie, representing District 1, ends in 2009, as does the term of Councilman Loui Antonucci, representing District 2. They are not up for election this year.
City Council President Susan Dellinger, representing District 1, has said she will run for re-election this fall. Councilwoman Karen Post, who filled the District 3 seat vacated by Kevin Kaminski, also said she will run for election to a four-year seat.
Councilman Towny Anderson, the at-large representative, said Monday that it is too early in the year for him to comment on November's election.
Councilman Paul Strong is not running for re-election in his District 3 seat.
District 1 includes west Steamboat and much of Old Town. District 2 includes the mountain area, and District 3 includes south Steamboat.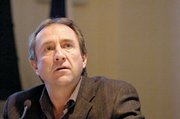 Steamboat Springs — Steamboat Springs City Councilman Ken Brenner will not seek re-election in November.
Brenner said Monday that in a recent conversation with legal counsel for the Colorado Municipal League, it became evident that he may be term-limited due to state regulations. Rather than contest the issue, Brenner said, he has decided that his City Council service will end this year.
"I do not plan to run for City Council this fall. It appears that I'm probably term-limited," Brenner said.
City Clerk Julie Jordan said Steamboat Springs follows state regulations for municipal term limits.
Those regulations allow City Council members to serve two four-year terms or three two-year terms.
Brenner has been elected to one of each, leading to the ambiguity.
Brenner was first appointed to the City Council in January of 1998, filling a seat vacated by the premature resignation of David Lindow. In November of 1999, he was elected to a two-year seat as the City Council's at-large member. He lost an election bid in 2001, but was elected to his current four-year seat in 2003. He currently represents Steamboat's District 2, which covers the mountain area around Fish Creek Falls Road and the base of Steamboat Ski Area.
Jordan said she is uncertain whether Brenner is term-limited.
"That could be one courts would have to decide on," she said.
"Only a ruling from a district judge, rendered because of a legal conflict, will offer clarity," added Brenner. "I don't want to be the test case for that."
Brenner said his withdrawal from November's election will not detract from his remaining council service.
"I haven't really spent my last eight years treading softly, so I don't really see a reason to become a wilted flower," he said. "I will be spending the next four months, and the time after retiring from City Council, continuing to work on the same issues I have advocated."
Brenner said those issues include protecting and enhancing local water assets, conserving open space, refining land use and affordable housing policies, and supporting local youth and families.
Brenner has garnered his share of controversy while serving on the City Council.
He received public criticism in February for allegations that he requested or accepted free gifts from Haymaker Golf Course and the Steamboat Ski and Resort Corp. Golf and ski officials refuted those allegations.
Brenner is also an active member of several regional or statewide organizations, such as the municipal league, Colorado Water Congress and Colorado Association of Ski Towns. But he has received public criticism for city-funded travel expenses related to those memberships. Individually, Brenner has spent far more than any City Council member in the past three years. From 2004 through 2006, Brenner spent a total of $9,814 in city checks.
City Councilman Paul Strong spent $5,430 during the same period. The only other council member with significant spending in that time is Steve Ivancie, who spent $1,476.
Brenner has said such involvement is invaluable for giving statewide attention to local issues.
"We're one of the most dynamic communities in the state of Colorado," Brenner said. "I'm proud of the leadership I provided."
At the Colorado Municipal League's annual meeting June 28, Brenner did not accept the nomination for vice-president of the league, due to his likely term limitation. Had he been able to continue serving on the City Council, Brenner would have served as the municipal league's president next year.
"This was unanticipated," Brenner said of his withdrawal from November's election.
- To reach Mike Lawrence, call 871-4203
or e-mail mlawrence@steamboatpilot.com