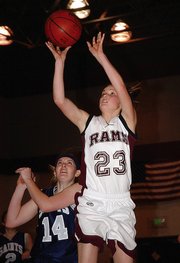 Oak Creek — The girls on the Soroco High School basketball team emerged from an ugly and emotional league loss to West Grand on Saturday in a bit of an identity crisis.
Soroco junior guard Glenda Long said each of the girls did a little soul searching, wrote down an answer to the question "Who are we?" and posted them in the locker room before their game Tuesday against Vail Christian (1-2 in Class 1A district, 3-10 overall).
The Rams put up only five points in Tuesday night's first quarter but found their touch in the second period. But at the half, the Rams still found themselves on the losing end of the score, 27-24.
Soroco headed into the locker room in need of answers.
The Rams hit the floor in the second half with a definitive one - they are a high-pressure, transition team.
"We played our game like we did at the beginning of the season - playing to win and not playing to lose," Long said. "Lately we haven't been running, but we turned (our transition) game on."
In the second half, the Rams created steals and turnovers that translated into easy transition buckets with their relentless full-court press. Soroco went on a 14-2 run behind the leadership of Long and Sarajane Rossi to open the second half and take a nine-point lead.
"Soroco solved our defense when they raised their energy," Vail Christian coach Patrick Beaudine said. "Their guards were fast and physical. They started penetrating, and what got to us was giving up those easy hoops and then we're suddenly down 15."
The Saints came back with more controlled offensive possessions in the fourth quarter behind Danielle Cavanaugh, who scored 11 of her team-leading 20 points in the final frame. But with Soroco moving the ball effectively on offense and killing the clock, the Saints could not dig themselves out of their third-quarter hole, when they were outscored 27-5. The game ended 77-51 in Soroco's favor.
Rossi led the Rams with 22 points. Amanda Wilson and Long also cracked double figures, scoring 18 and 17 points, respectively.
"It helps that it clicked for the girls and that they understand the 'why' of what we're trying to work on," Soroco coach Danelle Rivera said about what she hopes was a turning point for her team. "It's huge for them to figure it out, and hopefully that will do it, and we can run with it into Friday, districts and into next year."
Soroco heads to Hayden on Friday for a 6 p.m. game.