If you go
What: "Visual Poetry" art opening for photographer Kim Keith, weaver Jacque Hart and jewelry designer Melanie Guerra.
When: 5 to 8 p.m. Friday; gallery talk with the artists is from noon to 3 p.m. Feb. 10
Where: Artists' Gallery of Steamboat, 1009 Lincoln Ave.
Cost: Free
Call: 879-4744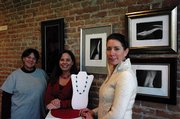 Steamboat Springs — Kim Keith only photographs her "bodyscapes" clients once.
"It's a one-time-only, never-do-it-again thing," she said. "And it's not eroticism. It's less about the body and more about the shadowing or light."
Keith's subjects are photographed in the nude. Her black-and-white "bodyscapes" photographs will be part of the art opening at the Artists' Gallery of Steamboat on Friday night. Also featured will be works by Jacque Hart and Melanie Guerra.
Keith said she isolates the curves of the body in her photographs, and she doesn't include faces.
"The anonymity allows for more freedom and creates a blank palette almost," she said. "There is so much insecurity that people hold in their faces."
Keith's studio is all leather, red velvet and very comfortable.
"It's very 'loungy' - with sheepskin and fuzzy stuff everywhere," she said. "And it's an honor to be able to do this and have that trust immediately."
Master weaver Hart still hasn't grown tired of weaving. She has been doing it since 1974 and currently has one of the 300 drawlooms that exist worldwide.
"It is 68- to 70-inches wide and 18-feet long and takes up an entire room in my house. It has 72 harnesses in the back and eight in the front," Hart said. "My technical goal is to increase the number of harnesses every time I put a new work on the loom."
Hart always hand draws her designs and transfers them to a grid before using the loom. Many of Hart's pieces include encrypted messages.
"I have to visualize everything as being absolutely black or white because there is no shadowing in thread," she said. "But recently I've been using light in weaving - where it looks like there is light emulating from it."
Hart also has incorporated Japanese Katsume stenciling into her work. She hand carves a design on smoked paper before transferring it onto the textile.
"The paper smells like barbecue," she said. "And I don't know anyone else who is doing that (technique)."
Hart learned how to weave from a Navajo woman who also taught her the Navajo language, beading, culture and how to make her own tools.
"It was an education like no other," she said. "Whatever you can think of, I can weave."
Jewelry designer Melanie Guerra has learned a new technique that allows her an infinite outlet for her designs.
"I've been working with precious metal clay that is actually made by Mitsubishi," she said. "They grind up silver and gold into a powder and add some organic matter that creates the same consistency as clay. You can sculpt it and carve it, then put it in the kiln, and the clay part burns off."
Guerra also works with semi-precious and precious gemstones, copper, brass and fine and sterling silver.
"I do lots of custom work and weddings. People bring me a piece of a broken necklace or earring and want me to incorporate it into something," she said. "I use something significant to them, and knowing they are wearing my work at a special event or on their wedding day is very flattering."
- To reach Allison Plean, call 871-4204
or e-mail aplean@steamboatpilot.com