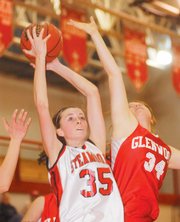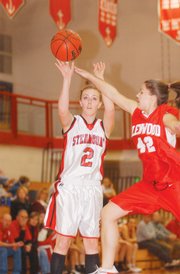 Steamboat Springs — Steamboat Springs girls basketball coach John Ameen knew when he took the job it would be a step-by-step process.
After getting over early hiccups with full-court presses and turning the ball over, Ameen said Saturday's 51-28 loss to Glenwood Springs revealed the next thing the Sailors need to overcome: an inconsistent offense.
"We're not seeing things in our half court offense right now," Ameen said. "(Glenwood's) zone hurt us. In the first quarter, they played man and in the second they went to their 2-3 zone and stayed in it the rest of the game because we couldn't score."
The Demons came out in a full-court press, but were forced to take it off early in the first period after Steamboat's Colleen King scored two easy layups.
Unfortunately for the Sailors, after King's layup with 5 minutes, 43 seconds left in the first quarter, Steamboat went cold, and was outscored 13-4 to end the quarter.
Steamboat's woes from the field continued in the second quarter, as the Sailors didn't score until Emily Metscher made a jumper with just 32 seconds left in the second and went into halftime down 27-10.
"Good teams come out and play hard every night," said Demons coach Brian Derby, whose team beat second-ranked Moffat County in overtime Friday night. "I'm just proud to be coaching these girls."
In the second half, the Sailors continued to play good defense, but still couldn't find a rhythm offensively.
During the final 16 minutes, the Sailors were outscored only 24-18, and outscored the Demons 10-9 in the final quarter.
Still, the slow offensive pace in the first quarter was too much for the Sailors to overcome.
"Once again, we were solid defensively," Ameen said. "There's a bunch of positives in there but against a quality team like this, we need our possessions."
Brittany Long and Gracie Stockdale led the Sailors with seven points apiece. Shannon King had six points and Colleen King had four.
Long also added six assists and Colleen King had 10 rebounds, while Lizzie Stoll had seven rebounds.
The Sailors next play at Delta on Friday.
- To reach Luke Graham, call 871-4229
or e-mail lgraham@steamboatpilot.com