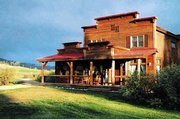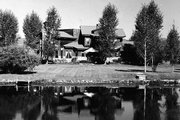 Steamboat Springs — The opportunity to purchase a ranch bordering the Elk River northwest of Steamboat Springs is becoming increasingly rare, but there are a couple of notable listings this winter. And even in a high-demand market with scarce supply, both sellers and buyers seem to have a great deal of patience.
Round Mountain Ranch near Clark is on the market for $18.5 million, offering more than 1,000 acres and both sides of a one-mile stretch of the Elk.
The sprawling ranch is co-listed by Dennis Kuntz of Exceptional Properties Real Estate in Steamboat and Jeff Buerger of Hall and Hall Ranch Brokers.
Lower in the valley and closer to Steamboat, Pam Vanatta of Prudential Steamboat Realty has listed a 35-acre homestead that straddles 1,000 feet of the Elk. With an 8,000-square-foot ranch-style home, the property is listed for $4.99 million.
Kuntz said although land use patterns in the Elk River Valley still support the image of working cattle ranches, it's important to understand how different the valley is from ranch country just a few miles over the Continental Divide in North Park.
"This (Elk River Valley) is a unique area for ranches," Kuntz said. "People pay 10 times what you should for ag because of the recreation. North Park is cowboy country. I have a ranch listed over there with more than 3,000 acres for $3.6 million."
It takes a special person to purchase a ranch in the Elk River Valley today, Kuntz said.
Vanatta is familiar with those special people. Late last year she sold the 1,590-acre Warren Ranch for $8 million and the 612-acre Elk River Ranch for $9.8 million. Both buyers already own homes in Steamboat and neither has immediate plans to relocate to their Elk River spreads.
Arie Hoogendoorn, the purchaser of the Warren Ranch, is very much a conservation buyer and content with the fact that much of the ranch is under a conservation easement, Vanatta said. The conservation easement, which limits development on the property, helps to explain why the ranch sold for less per acre than Elk River Ranch (the latter also has more elaborate improvements). But the transaction also establishes that there is a resale market for large ranches governed by the terms of easements.
The new owner looks forward, Vanatta said, to the days when he comes out to the ranch and works side by side with ranch manager Matt Belton, a Routt County native.
The ranch really functions as a place where Hoogendoorn's family can spend a day in the country. He also enjoys hunting on his own property on the upper section of the ranch.
"He was more interested in buying the ranch for his children and the generations in the future," Vanatta said.
John Q. Adams, purchaser of the 500-acre Elk River Ranch, was attracted to the property, in part, because of its proximity to Steamboat. His family has remodeled the 3,500-square-foot main house. They acquired several more buildings in the purchase, including a modern barn, a historic ranch house occupied by the ranch manager and even a Western saloon building, which houses an antique bar from Montana.
Vanatta said she has worked with clients who go through a progression in Steamboat with acquisition of a ranch the ultimate goal. They might begin by purchasing a ski area condo, then a house, then undeveloped land and finally a ranch straddling a river, she said.
Brian Smith, Buerger's colleagues at Hall and Hall, co-listed the Elk River Ranch with Vanatta. She said his expertise in ranch properties and their marketing proved invaluable in the transaction.
Smith has worked with ranch owners across the Rocky Mountain West and said the Elk River Valley stands out in some significant ways.
"It's a pristine valley with an awesome fishery resource and very close to both a ski resort and a mountain town," Smith said. "That's very hard to find any more."
In valleys like the Roaring Fork, downstream from Aspen, when brokers show ranches they often drive through subdivisions to get to the ranch house.
A network of conservation easements, many of them held by the Yampa Valley Land Trust, helps to ensure that the Elk River will look pretty much as it does today in perpetuity. Round Mountain Ranch is conserved by an easement with the Colorado Cattlemen's Association Agricultural Land Trust.
Smith and Kuntz agree that selling ranches like the handful that turned over last year in the Elk River Valley is a matter of finding just the right buyer for that unique property.
Although demand is high right now, buyers will turn their back on a desirable ranch if it isn't just exactly what they want, Smith said. Similarly, sellers also are patient.
"There are not a lot of distress sales out there right now," he said.