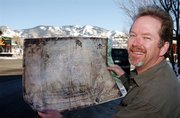 Steamboat Springs — Peter Parsons spends his working days in Steamboat Springs leading a team of engineers that helps electronics companies save money on chip design. But during his coffee breaks, Parsons sometimes morphs into Cutthroat the Pirate.
Parsons is the owner of two local businesses, a consulting firm called Pinpoint Solutions Inc. and Stash Pirates. The former is a consulting firm that designs computer models that support the design of specialized prototypes of new computer chips. Pinpoint Solutions helped Apple design a chip for the iPod, for example.
Parsons, an electrical engineer, leads a team of engineers working in Steamboat, Boulder and Austin, Texas.
Stash Pirates is a very different micro-enterprise that offers a change of pace from computer chip engineering.
Parsons, through his alter ego, sells a treasure map intended to help visiting skiers and snowboarders pillage the secret powder stashes of the Steamboat Ski Area.
"I own a firm that does high-tech consulting. I sit in front of computers all day long and occasionally my brain gets weary. Whenever I need a break, I get up from the computer and start rolling maps," Parsons said.
The Stash Pirates map is a cleverly-designed product that is meant to function as an overlay to the official trail map of the Steamboat Ski Area. Because it is translucent, skiers and riders can use it to locate the unofficial routes through Steamboat's gladed tree runs where, often, untracked powder snow lingers after a storm. Parsons said all customers have to do is line up the dotted lines on his map with the chairlift lines on the official trail map to get the proper alignment.
Especially when taped to a bright window, the official trail map can be read through the Stash Pirates map, which is decorated with art of a pirate ship.
The stashes are labeled by the folk names local skiers and riders have been using for decades - Land of the Little People, Calf Roper Freshies and The Castles, for example. Parsons has had all kinds of fun writing descriptions of how to find the stashes in prose salted liberally with pirate terms such as "avast," as in, "avast ye hearties."
In some social circles in Steamboat, Stash Pirates has earned Parsons a reputation on par with Bluebeard himself. He acknowledges some of the area's most passionate powderhounds have threatened to make him walk the plank. They resent him for providing tourists with a guide to what some regard as privileged information.
The harsh criticism caught him by surprise.
"Some of the hardcore locals,
when they found out about it, they went ballistic," Parsons said. "But everyone who has taken a look at it has said, 'Oh, it's not really giving up any secrets.'"
Parsons said his motivation in creating the map to Steamboat's favorite unofficial powder stashes has been less about profit and more about providing fun for tourists while he explores what it takes to create a successful micro-enterprise. His product opens the eyes of visiting skiers who likely don't realize the ski area is substantially bigger than what is shown on the trail map. All they need, he said, is the key to discovering the unnamed skiing.
"All of the stashes are already within the boundaries of the Steamboat Ski Area," he said. "The map specifically tells people not to go out of bounds. Even if you get to (a stash), you still have to search for the powder. I think (the map) has actually struck a pretty good balance. But certainly, it ruffled a few feathers."
The Stash Pirates map has ruffled enough feathers that Parsons has been forced to learn some lessons about adapting on the fly and creating a new marketing plan in the midst of his first winter.
His initial plan was not to sell the maps in stores, but instead exclusively via rack cards that would drive customers into local restaurants and taverns. Once there, they would have had to ask the bartender for a copy of the Stash Pirates Map.
The rack cards are designed to stand out from the 70 other cards in racks all over Steamboat with a stark illustration of a skull and crossed cutlasses and an invitation to "plunder the hidden powder," and "pillage the secret stashes."
The plan was to add to the cachet of the product and give it a flavor of Indiana Jones by requiring prospective customers to ask local bartenders to pull it out from under the bar.
"I wanted it to have an underground feel to it," Parsons said. "In order to find the map, you have to find the bartender, and when you ask about it, he slides it out from under the bar tied up in a leather string."
Parsons reasoned that for a very slim cut of the treasure (profits) and an indirect means of driving customers to their establishments, restaurant and bar owners would be happy to sell the maps.
The opposite turned out to be true. If the bartenders themselves weren't among the powderhounds who were reluctant to spread the word about the stashes on Mount Werner, they heard enough negativity from their local customers to shy away from the project.
Scott Ford, who has counseled many start-up business owners in Steamboat over the last decade, said he thinks Parsons' product has potentially tapped into a strong desire shared by many vacationers. Vacationers want to discover an authentic sense of place at their vacation destination and to go home with rich stories to tell their neighbors," he said.
"It's about tell-ability," Ford said. "All of us, when we go on vacation, want to feel like a local. And by the time people get home, the fish get bigger and the powder gets deeper."
Parsons' original marketing plan would have allowed tourists to return home and spin a credible yarn about the bartender who turned them on to a secret powder stash where they found snow that was up to mid-thigh.
However, Parsons' ability to let go of the "bartender strategy" and adapt on-the-fly displays is one of the essential skills for entrepreneurs, Ford said.
"The more business start-ups you do, the better you get at it," Ford said.
Since the New Year, Parsons has turned to a computerized phone system to augment the rack cards and send customers to a limited number of retailers that sell the map, including Epilogue Book Co., Rocky Mountain Peddler, Mona's Art to Go and Tropical Rockies. The map retails for $19.95. Sales are "definitely slow," Parsons said.
The computer-based phones system offers 20 extensions and costs Parsons $25 a month. It affords him enough flexibility that he can have a little fun with his customers. For example, the phone message directs customers to hit extension 17 if they want to be insulted by a pirate. Callers who punch in 17 hear Parsons, in his best Bluebeard voice, calling them "scurvy dogs" and other choice pirate insults.
Epilogue's Erica Fogue said her local customers have been skeptical of the map at first, but often are won over after they give it a good look.
"They go through a cycle," Fogue said. "Often they're upset when they come in and want to look at it. They feel a strong sense of localism - this is my mountain. Once they see the map, we talk about it and they end up buying it. There's something about it - it's more a work of art and less of a threat. Some people frame it and put it on their wall."