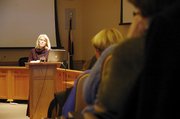 Steamboat Springs — Main Street Steamboat Springs has grown out of its infancy, group leaders say, and is taking the steps necessary to become a healthy, mature organization.
"We have been going on three full years as a Main Street organization, and we continue to gain momentum," Main Street Steamboat board president Dan Bonner said during the group's annual meeting Tuesday at Centennial Hall.
In 2006, the number of members that joined the nonprofit organization, which aims to promote the downtown area and to ensure its vitality, grew about 150 percent. Main Street now has 137 members.
"The original strategic plan was just getting going, and now we're going," Main Street Executive Director Tracy Barnett said.
Accomplishments from the past year as well as plans for 2007 were unveiled during the annual meeting.
The number of vendors selling their goods at the farmers markets on Sundays during the summer continues to increase. Last summer was the second year of the Old Town Farmers Market, which had 27 vendors.
"It was very successful in drawing people downtown," Bonner said.
The Downtown Hoedown and the Halloween Stroll, which has been a downtown tradition for more than 20 years, also were considered successful.
"It's to the point where the kids who first came to the event are now bringing their kids," Bonner said.
Another one of Main Street's goals for 2007 is to create three new events in addition to events such as the spring and fall Sidewalk Sales and the Classic Car Show.
The organization is considering a Mother's Day event with a female focus. Another community event like the Downtown Hoedown also is possible, and group members are discussing an event for the area's high number of dog owners.
One attempt to make it easier for people to visit downtown without having to deal with the hassles of parking was not successful. The Downtown Shuttle was launched last summer to carry people from the parking lot at the Stock Bridge Transit Center to downtown.
Bonner said ridership was very low.
"We don't seem ready to embrace that off-site parking area," Bonner said. "The things we succeed at we'll embrace, and the things we don't (succeed at), we'll move on."
Main Street also moved into a new office on Yampa Street, where the organization's single paid staffer, Barnett, works.
The Downtowner was launched last year. It serves as the official publication for Main Street and allows for good communication among members, Bonner said. The group also launched a Web site, www.mainstreetsteamboatsprings.com. A monthly newsletter is sent to members by e-mail.
Several seminars and talks were hosted by Main Street, including a shoplifting prevention seminar.
Jonathan Schechter of Jackson, Wyo., came to Steamboat to present his findings from his research of the economics and growth of resort communities.
Nancy Kramer is the chairwoman for the Main Street Design Committee and said historical preservation will continue to be a focus for downtown. Kramer said Main Street and the city of Steamboat Springs are working to "add some teeth" to preservation initiatives.
Work will continue on a master plan for downtown, Kramer said.
"Stay involved in this process," Kramer told the members. "Your voice will be heard."
Bonner said Main Street currently receives nearly half of its funding from the city, and he reminded members the group eventually must rely on other sources of funding.
Jane Blackstone briefed members about the establishment of a Business Improvement District, or BID, that could supply a funding source for Main Street and downtown projects. Business and building owners would fund the BID through a self-imposed tax. Surveys are being distributed to property and business owners to gauge interest.
"The first real question is: Is there interest?" Blackstone said.