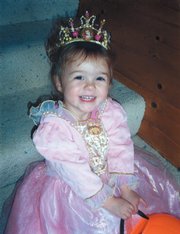 Steamboat Springs — Molly Look will lose the tip of her right index finger to frostbite she suffered from spending 30 minutes outside in sub-zero temperatures last week.
On Friday, Look's maternal grandfather, Bob Printy, said doctors realized Molly was going to lose the tip of her right index finger after changing her bandages.
Doctors did not amputate the tip of the finger because it will likely fall off naturally, Printy said.
There is concern that the tips of more of Molly's fingers or toes may fall off in the days to come, he said.
"There's a real concern that it will happen again to more of her fingers," he said.
Look, 3, is recovering at Denver Children's Hospital. Molly was flown to Denver on Jan. 17 after a passing motorist found the little girl, wearing just a shirt, sitting in a snowbank in North Routt County. The girl had wandered from her home in an effort to walk to her grandparents' house. She became tangled in a fence and lost most of her clothing. Molly's parents, Del and Yvette Look, did not immediately notice that she was gone, then were searching frantically for her when she was found.
Printy said the family is optimistic Molly will come home early next week.
Donations to help with Molly's medical expenses may be made to "Molly Look Fund" at any Mountain Valley Bank or Vectra Bank branch. Alpine Taxi is accepting donations for Molly through Feb. 1. The company will match any donated funds, up to $5,000. Cash or check donations will be accepted at Alpine Taxi's barn at 1755 Lincoln Ave., or mailed to P.O. Box 775066, Steamboat Springs, CO 80477. Donations also may be given to any Alpine Taxi driver. For more information, call 879-2800.
-To reach Alexis DeLaCruz, call 871-4234
or e-mail adelacruz@steamboatpilot.com