Helping hands
Private donors to Hayden's vocational building:
TIC - $60,000
Mountain Valley Bank - $30,000
Native Excavating - $20,000
Kozman Family - $10,000
Cook Chevrolet, Jeep, Subaru - $7,500 (plus $250 for every program graduate who stays with company for 6 months or more.)
Wells Fargo Bank - $5,000
Yampa Valley Construction Trades - $5,000
Snow Country Construction - $5,000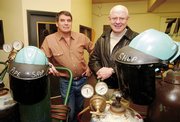 Kevin Kleckler is excited about how quickly the Hayden School District has secured financial support for its expanding vocational program.
Less than two weeks after formally beginning the effort to secure private donations to expand Hayden's vocational building, the district has been given $142,500. Mountain Valley Bank and the Hayden Economic Development Committee are helping with the effort.
"It's neat to see everyone's support of the trades," said Kleckler, the district's career and technical education director. "It's a huge need for the valley. You always fear you won't be able to pull something off, and this has been received really well."
The district received its most substantial contribution to date from The Industrial Company in Steamboat Springs. TIC gave the district $60,000.
"Isn't that awesome?" Kleckler asked. "We are blown away."
Ron McKenzie, chairman and founder of TIC, said the contribution to the Hayden School District is as much a gift as it is an investment in the future of trades in the valley.
"The needs for craftsmen are incredible right now," McKenzie said.
McKenzie said TIC frequently brings in employees for training at its Steamboat Springs site, so he sees the value of teenagers interested in the trades having the opportunity to train while in high school.
Kleckler envisions Hayden's vocational building modeling TIC's training facility with its mix of classrooms, a computer lab and workshop areas.
Don Silva, director of Mountain Valley Bank, which is giving the district $30,000 for the vocational building, used to work for TIC.
Silva thanked McKenzie and TIC for its generosity, believing their support will help spark interest in Northwest Colorado.
"When they see a company like TIC step up and give $60,000, it gives it validity," Silva said.
Hayden's vocational building also will be used for post-secondary education, which may be appealing to other area businesses looking to invest in a site where future employees can balance core high school classes with adequate vocational training.
Kleckler said the district is awaiting word from other area businesses and banks.
The Hayden School District's goal is to raise $250,000 in private donations by the Feb. 24 presentation for an Energy and Mineral Impact Grant.