Gym facts
The Steamboat Springs City Council has approved the spending of $16,000 for the design of an 800-square-foot space at the new Soda Creek Elementary School. The space would be used for storage and an office for an after-school program.
But City Council member Towny Anderson said that is as far as the City Council has gone in terms of funding an after-school program at the district elementary schools. There are no plans to build after-school storage space at Strawberry Park.
"We certainly voted on (funding) the design with the understanding that if it makes sense, and it's practical, we would fund that portion of construction," he said.
After-school needs have been identified as a need by both the city and the Steamboat Springs School District.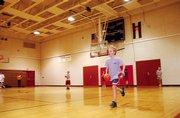 Steamboat Springs — There is an undisputed need for additional gymnasium space in Steamboat Springs, but where and when a new gym should be built is a significant source of debate.
The Steamboat Springs School District and the city of Steamboat Springs have looked into the possibility of building a full-size gymnasium on vacant land east of Strawberry Park Elementary School.
But the cost, the design and the size remain undecided.
"Any discussions about a gymnasium are very, very, very preliminary," said Steamboat Springs City Council member Towny Anderson. "I can't emphasize 'very' enough."
The Steamboat Springs School District would welcome the addition of a full-size gymnasium on school property because the high school's two gyms are booked solid, as is the one full-size gym at the Steamboat Springs Middle School, across the parking lot from Strawberry Park.
Soda Creek Elementary School and Strawberry Park have smaller gyms with floor surfaces appropriate for young children.
"Our gym is booked from 6:45 in the morning until 10 at night," middle school principal Tim Bishop said. "That's how valuable gym space is."
Gold's gym
Steamboat is an active community with seemingly limitless extracurricular activities for students, and a popular, organized recreation league for adults. The city uses the high school and middle school gyms for its adult recreation leagues.
A full-sized gym on district land that is owned and maintained by the city would free up school district gym space for school-related activities.
The Steamboat Springs School District understands that owning vacant land is like sitting on a gold mine, but it's not as simple as erecting a square structure near a school.
Moving utilities
Mike Graves, one of the owner's representatives for the school district during its Soda Creek and Strawberry Park construction projects, said there is an 8-inch sanitary sewer line, a 4-inch domestic waster service line, a gas line, an abandoned - "we think" - fuel oil line and the primary electrical service all running in the vicinity of an access road just east of the existing school.
"It will be a challenge because of the utilities, but it's doable," architect Brian Risley said.
A playground also would need to be relocated, but Strawberry Park Principal Mark MacHale did not think playground equipment would factor into a decision.
"We do have enough space to relocate the playground," MacHale said. "Our main play structure that was built by the community is in need of some updating and relocation, so it would fit into our plans."
The challenge, then, comes in the form of paying for construction and determining if and when to build a gymnasium.
Risley estimates an 8,000-square-foot gym would cost approximately $2 million with current construction costs.
If the city moved forward with plans and construction while the Strawberry Park expansion was occurring on the west side of the school, costs could be minimized, Risley added.
Who will pay?
The Strawberry Park expansion is scheduled to begin this summer.
"Ideally, if the city is going to come on board during this current construction, that would be the best scenario," MacHale said. "Certainly, the school district is looking for partnerships. We feel the ball is in the city's court."
Any full-size basketball or volleyball court built off Strawberry Park would have to be paid for with city funds. The school district has been adamant about that because it just asked taxpayers for $29.7 million to rebuild Soda Creek and expand Strawberry Park. Budgeting for a full-size gym would have taken the district over the $30 million mark, a summit it did not want to stand on.
"We are very receptive," Superintendent Donna Howell said. "The issue is (does the city) have the money?"
But that is not the only issue.
Consultants to help
The recreation needs of Steamboat have been on the minds of one committee - Citizens for a Recreation Center - for nearly a year, formally, and for several years informally.
The City Council-appointed committee has gone before the council on multiple occasions with updates and plans.
Greenplay LLC and Barker, Rinker, Seacat Architects P.C. have been brought on as consultants to work with the community to determine what recreational facilities are needed and how to make them a reality.
"Nothing could happen without a full review or participation of the recreation center committee," Anderson said. "Obviously, if we were building a rec center with a gymnasium would we also want to build one at Strawberry Park?"
Members of the citizen committee haven't said "No," but they also don't want to rush into construction of a $2 million structure without clear direction from outside consultants.
"Any decisions regarding this shouldn't be made until they have a chance to take the big-picture look," said Leslie Curley, spokesperson for Citizens for a Recreation Center. "That's in the best interest of the community and the tax dollars."
Addressing needs
Curley said consultants would address school needs because the school district is very much a part of the city of Steamboat Springs.
Based on public comment at recent School Board study sessions or meetings, several people have been vocal about wanting the school district to move forward with plans to build a gymnasium near Strawberry Park.
But Howell said this decision ultimately rests with the city, and Anderson doesn't expect he and his colleagues to make an impulsive decision.
"We have a chance to look at recreational needs holistically," Anderson said. "What are the costs and benefits of putting it under one roof or spreading it out across the community and working with existing structures?"
- To reach Melinda Mawdsley call 871-4208 or e-mail mmawdsley@steamboatpilot.com