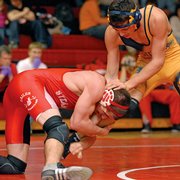 Glenwood Springs — Although only three Sailors competed in the Rifle-Glenwood-Steamboat triangular wrestling meet Thursday, Steamboat made the trip worthwhile.
In the first three matches of the meet, Houston Mader, Ben Deline and Lane Shipley all threw down pins in a little more than three minutes.
"The guys that we have in the room, we are real proud of," said Steamboat head coach Sean McCarthy, whose usual squad of seven wrestlers was smaller this week due to a few wrestlers coming down with the flu. "They are really strong and they are pushing each other to get better."
The first pin came at 135 pounds when Mader pinned Glenwood's Hunter McCallum in 28 seconds. Then, Deline, at 145 pounds, pinned Rifle's Keeton Long in one minute and 15 seconds. In the heavyweight match, Shipley (285 pounds) made it three in a row by pinning Glenwood's Greg Orosz in 1:29.
Mader then came out and took another win in his second match of the night, downing Rifle's Mario Navarro with a 3-2 decision. Deline was then awarded a forfeit in his second match.
In another heavyweight showdown, Rifle's Tad Davis handed Steamboat its only loss of the night. Although Shipley built up a 10-6 lead going into the third period of a 285-pound showdown, Davis muscled up the strength for a come back. Overcoming a hit to the face that left his nose bloody and bruised, Davis pinned Shipley in the closing seconds of the match
"That kid from Steamboat is a good wrestler. He's strong as an ox," Rifle head coach John Wisniewski said of Shipley. "Coach (Alfonso) Alfini (an assistant for Rifle's wrestling team who is also an assistant for Rifle's football team) was telling me this guy's incredible on the football field. Tad has really been in his shell and been timid, and tonight he really broke out and he just went after him. It was awesome to see that spark in him."
After counting all of the Sailor forfeits, Rifle beat Steamboat, 66-9, and Glen-wood topped the Sailors by a score of 66-18. McCarthy didn't care about the final score however, he was just happy to get the matches that he did.
"These kids are just trying to build up mat time before regionals, so if we have to drive three or four hours its worth it," he said.