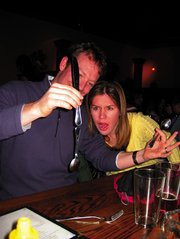 Photoplay music
Did you know that a whole genre of American music has been largely unrecorded and basically died overnight in the 1920s?
That genre - photoplay music - was written for and played live during silent movies.
If you are younger than 80, you probably have never heard this music -unless you attended the Mont Alto Motion Picture Orchestra's performance Jan. 17 at the Steamboat Springs Mountain Theater.
The orchestra's performance coincided with a screening of "Sherlock, Jr.," a funny, smart and way-before-its-time flick that incorporated a variety of early special effects. I haven't been more satisfied with a performance in a long time.
Furthermore, I was trilled to experience an art form I wouldn't have otherwise been able to encounter. And it was delightful. The music was fun, uplifting and even romantic.
The five-piece Mont Alto Motion Picture Orchestra compiled the soundtrack to the movie from original scores used during the time the film was first shown.
Rodney Sauer, pianist and musical director of the orchestra, describes their performances as being closer to ballet and opera than modern film.
"The biggest challenge is just finding the material because it is not easy to come by," he said. "You're on your own because it all went out of print in 1928."
The other difficult aspect for the musicians is that they get no time to rest during the course of the film, and they have to sync up with what is happening on the screen.
"We start playing at the beginning and are still playing at the end," Sauer said. "You have little time to turn the pages and have to be on your toes and be a good reader."
The orchestra did an amazing job, and it was such a unique presentation that I would urge anyone to attend if they come back to town. They also have DVDs on sale at Amazon.com and at www.mont-alto.com.