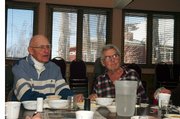 Steamboat Springs — The Steamboat Springs Community Center could come down months before a new one is finished, despite promises to the contrary.
A 2005 agreement between the city and the East Routt Library District was intended to ensure continuous operation of the center. And seniors, who frequently use the center, took that agreement as a promise that the city would build a new facility before the current one is destroyed to make room for an $11.4 million expansion of the Bud Werner Memorial Library.
But a May 2006 contract between city officials and the library district allows the district to close on its purchase of the adjacent Community Center as early as July 1. Once the site is purchased, the district can proceed with demolition, assuming it has received city approval and permits for the library expansion.
That approval took a major step forward Thursday, when two unanimous votes of support by the Steamboat Springs Planning Commission likely assured council will endorse the project.
"I think everybody is anticipating there will be a gap between closing the sale with the library district - which will enable them to begin construction - and the completion of the new Community Center," said Tony Lettunich, Steamboat's city attorney. "There's a little bit of a conflict between the goals and the desires."
The new Steamboat Springs Community Center will be built adjacent to the Stock Bridge Transit Center west of downtown. The City Council approved plans for the 8,400-square-foot, nearly $3 million facility adjacent to the Yampa River in December.
"I know I will not be done with the Community Center by June or July," Deputy City Manager Wendy DuBord said. "I am hoping I will be done by September or October or very close to that."
Although an intergovernmental agreement city officials made with library officials in October 2005 states that the new center will be built before the current center is torn down, a library official declined to say Friday whether the library expansion will wait for the new Community Center, which experienced weeks of delays in the design and city approval process.
"I think there are still too many variables from our standpoint and their standpoint, between now and June 30, to be able to speculate in any fashion," said Bob Matteo, president of the library's Board of Directors. "(June 30) is still our target, but I think many things can happen."
Steamboat Springs City Council member Paul Strong said providing services related to the Community Center is the responsibility of the city, not the library.
"It's our issue now," Strong said Friday. "If the library decides to work around it, that'd be great, but I don't think it's incumbent upon them to do that."
Worst case scenario
A gap between the two community centers would create a situation that Shelley Orrell described Friday as her "worst-case scenario."
Orrell is the program director for Routt County Council on Aging, whose members have publicly advocated continuous services throughout the Community Center process. Orrell works with senior citizens from her office in the current center on Lincoln Avenue near 12th Street. The center houses a kitchen where Orrell's staff cooked more than 10,000 meals for 328 Routt County seniors in 2006.
"It would be devastating if our programming had to be shut down," Orrell said. "Not only for Steamboat, but it would also most likely shut down our programming in Hayden and South Routt. Our nutritionist does menu preparation and ordering for all three sites, and the kitchen here in Steamboat provides food for Hayden : it would be a trickle-down."
DuBord said contractors for the new center will utilize $90,000 in "winterization" expenses, including a cold-weather concrete mix and weather protection for building materials, to begin construction as soon as possible.
"I'm going to break ground the minute I can," DuBord said. "I'm not waiting for spring."
To reach Mike Lawrence, call 871-4203
or e-mail mlawrence@steamboatpilot.com