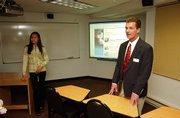 Steamboat Springs — Monson Hall has new tenants.
What once was a dormitory and storage facility for Colorado Mountain College's Alpine Campus in Steamboat Springs has been refurbished, giving CMC's hotel resort management, ski and snowboard business, outdoor education, art and emergency medical services programs a new home.
"We are starting to see some interaction between those programs," said Kemp Bohlen, CMC's assistant dean for instruction. "We hope they eventually blend together."
On Wednesday, CMC hosted an open house so the community could see the changes at Monson Hall. The remodel enabled several of CMC's programs to receive much-needed facilities and classroom upgrades, Alpine Campus Dean Kerry Hart said.
"We have better equipment," said Terry Hunter, hotel and resort management professor at CMC. "It's nice to have a dedicated classroom."
Standing before the latest in SMART Board technology, Hunter gushed about having new desks and a classroom large enough that students won't have to stand. The program plans to offer more courses and multiple sections to accommodate growing interest.
CMC's art and ski and snowboard business programs also received classroom upgrades. Walls separating old dorm rooms were knocked down, clearing space for large art tables and large labs for students to tune skis and boards.
"It was reorganization and overhaul," said Cynthia Zyzda, assistant professor of arts and humanities at CMC. "We got rid of a lot of old things that we recycled."
Zyzda showed off the students' new image wall, an entire wall of magazine images hung to inspire students about color and texture.
"We will eventually fit this room with SMART Board technology," Zyzda said.
Steve Hoots, who helped oversee the remodel, taught students the basics of tuning skis and snowboards during his regularly scheduled class at 6 p.m. Wednesday. Open house attendants could walk into the large lab and watch students repair gauges on the bottoms of boards.
Monson Hall is located on the southern end of CMC's campus.