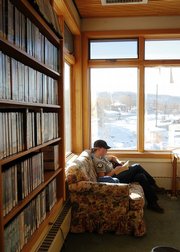 Steamboat Springs — City planners Thursday strongly supported plans for the expansion of Bud Werner Memorial Library, but acknowledged future parking concerns at the heavily used Lincoln Avenue and 13th Street site.
The Steamboat Springs Planning Commission unanimously supported final plans detailing the layout, design, architecture and landscaping for the 20,000-square-foot, $11.4 million library expansion, which pending approval from the Steamboat Springs City Council would more than triple the size of the current library.
Plans created by the Minneapolis-based firm Meyer, Scherer and Rockcastle include vastly improved children's and teen libraries, an outdoor reading deck overlooking the Yampa River, a coffee shop, a large community room, meeting rooms and study space, increased administrative offices, lounge areas, and significantly increased floor space that will allow for larger displays and selections.
Architecturally, the building has a multi-faceted design including a traditional brick-and-stone frontage on Lincoln Avenue, an outdoor plaza leading into one of the building's two main entrances, and a sweeping, curved façade dominated by large windows facing the Yampa River.
"Wow. I love it," said commission member Cari Hermacinski. "I think it's fantastic architecturally - I want to see it in real life."
But while the expansion would increase the library's total size from 9,500 square feet to 32,900 square feet, it would not provide a similar increase in parking spaces.
The library's current parking lot, between the library and the river, has 35 spaces. Plans for the expansion include 52 spaces in a redesigned lot at the same location. While city planning staff said the expanded library requires 73 spaces according to city codes, the Planning Commission voted to grant a variance and allow the fewer spaces.
"It's hard to know where the line is, where you don't have enough parking," commission member Steve Lewis said. "But if there is a place where we need to bend more than usual, it's for our public library - this is going to be a great place to walk to."
Library Director Chris Painter called the expansion "incredible" and praised her colleagues for the years of work that culminated in Thursday's commission votes. Although Painter acknowledged that the library's city-owned parking lot is often used by people - such as kayakers and users of the Yampa River Core Trail - who are not accessing the library, she said such uses come at "very distinct times," and expressed confidence that parking issues can be mitigated.
"I feel really good about our project," she said.
Others do not. Steamboat residents Bill Jameson and Maybelle Chotvacs sharply criticized the expansion's parking plan. Jameson called the plan "a total joke" and questioned why underground parking was not considered. Several commission members, including Nancy Engelken and chairwoman Kathi Meyer, also expressed concerns about parking at not only the expanded library, but also in downtown Steamboat as a whole.
Commission member Dick Curtis said, ultimately, the plan is the best solution for a library that will offer amenities such as increased landscaping and play areas for children.
"If we have more blacktop for parking, it's going to take away from the wonderful park atmosphere," Curtis said. "There's really no answer without a complete redesign."
Because the City Council has recently given the Planning Commission greater responsibility, the unanimous support by commission members likely assures council approval of the library expansion, which local voters approved in November 2005.