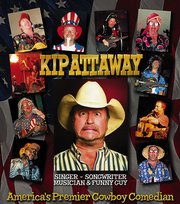 Steamboat Springs — Kip Attaway said women flash him at almost every show.
"It never ceases to amaze me what people do for beads," said Attaway, who is a cowboy musician and comedian. "I give some away during my show."
Many of the Mardi Gras beads Attaway throws into the crowd light up and play jingles he wrote.
"I did a bunch of different ones for different crews who would toss them from the floats," Attaway said.
Attaway's act involves a lot of parody, props and music from genres including country, rock, and rhythm and blues. His live show evolved over a 30-year music career, during which he recorded 13 CDs and had two songs in the top 100 country songs on the Billboard Music Chart.
"I used to play nice songs when I started out, but you could starve to death singing nice songs," Attaway said. "When I did more party-like songs, people got into it more and that's how the show developed."
Attaway shoots from the hip on stage.
"I never know what's coming up and I play off the crowd and do some audience participation stuff," he said. "I also play guitar and sing stupid songs. It's sort of a musical comedy type show. It's an ugly mess - is what it is."
Although Attaway prides himself on his politically incorrect material, he steers clear of religion and politics.
"I don't want to ruin what little bit of a career I have left. (Those topics) are the kiss of death for entertainers," he said. "I pick on myself as much as anybody - it's an equal opportunity show - nobody's sacred."
Attaway's show typically involves excessive drinking, and he set the record for the highest bar tab one night when he was playing at Buddy's Run restaurant, before it became the Bear River Bar & Grill.
"I started playing upstairs in the lobby bar and then they moved me downstairs," he said. "It used to get pretty wild down there."
Audience members should be warned that Attaway's show is rated R.
"This show is not for the squeamish," he said. "Come to think of it, I don't know if I want to go."