Photo Gallery
Mary Levingston's art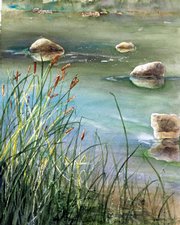 Steamboat Springs — Mary Levingston learned how to forge her mother's signature before she entered kindergarten. And that's how her art career began.
"I didn't realize what I was doing then," Levingston said. "When I was little, I would practice cursive just because I loved the flow of it."
Levingston now works with mixed media and watercolors. She teaches art classes at Colorado Mountain College, is one of the many owners of the Artists' Gallery of Steamboat and has work displayed in the Steamboat Art Museum and in a model unit at a condominium complex.
While growing up, Levingston got the message that artists were flaky.
"But a lot off my students are retired orthopedic surgeons, principals and pilots as well as young people from California, the Front Range and from different countries," she said. "They are able to take and share ideas, and it's neat to see the interaction between the young and the retired."
Levingston teaches classes in watercolor, which is the only medium that has been able to hold her attention for the past 20 years.
"I like watercolors because you can always learn something new with it, like different principles and elements of design," Levingston said. "I just love the medium and never grow tired of it."
Working with watercolors is an interactive process.
"You put it down and it does its own thing, then I do something and it does something," she said. "It scares a lot of people, but it's just a matter of practice."
Levingston primarily paints landscapes because of her love of nature and the peacefulness the paintings emanate.
"The world is so crazy, and I paint those because I think people would like to have something more restful on their wall," she said. "And I get to go there, too. It is particularly helpful when your kids are little, because you can go away in your head and paint."
Levingston often starts her paintings "wet on wet," which entails using a wet brush and paint on wet paper.
"That's when watercolor moves and doesn't stay, and some pigments spread farther than others," she said. "As long as watercolor is wet, it is in constant change. If you like what you did, you need to use a hair dryer to dry it fast."
Levingston doesn't believe in using formulas for her art or in other areas of her life.