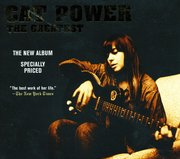 Cat Power
"The Greatest"
On sale at All That Jazz for $13.98
Cat Power, also known as Chan Marshall, has a voice that penetrates the soul.
She breathes life into each word she sings - not only because of the sheer beauty of her vocals, but also because she pours her passion and anguish into her delivery in a way that only a singer truly in love with her words can.
She leaves no doubt that she means every word that flows from her lips.
With "The Greatest" - the title was not chosen because the disc is a greatest hits compilation, but rather because it is the name of the first song on the album, in which she reveals, "Once I wanted to be the greatest" - Marshall ventured to Memphis to work with The Memphis Rhythm Band.
The band, which includes Mabon "Teenie" Hodges, the guitarist and songwriting partner of Al Green, offers the perfect backing for Marshall's vocals - providing the album with an earthy sound that is rooted in the 1970s, the period during which many of the musicians came into their own.
Marshall could take her voice into about any genre she wished, but it's in the Memphis setting where she sounds at home.
Whether she's diving into classic soul, such as on "Lived in Bars," where her voice is backed with a refrain of "shoop-be-doop," or going to the country, as with the fiddle-filled "Empty Shell," Marshall is honest and inviting.
There's a beauty in the humble way in which she delivers her lyrics. On "Where Is My Love," a simple piano-and-string number in which many singers would give in to the temptation to indulge in their pedantic side, Marshall almost whispers her musings.
Perhaps it's this down-to-earth charm that makes her so irresistible. An ironic revelation, considering the album's title.
Rating: 4 stars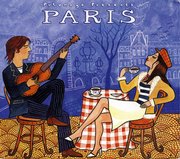 Various artists
"Putumayo Presents Paris"
On sale at All That Jazz for $15.98
What began as a series of soundtracks for the stores of the Putumayo clothing company has grown into a wide-reaching collection of world music compilations.
Putumayo World Music's 2006 Fall/Winter Catalog includes more than 90 CDs featuring music from all corners of the globe. For those interested in African music, there are discs with artists from Cape Verde, Mali and South Africa. Latin music? There are discs with music from Mexican, Puerto Rican and Cuban artists. There are European, Asian, Middle Eastern and Caribbean compilations. Louisiana is the inspiration for six of the compilations.
With Putumayo's "Paris," listeners discover the melodies of "The City of Light" as performed in chanson - a type of French song described by Putumayo as "a catch-all term for a uniquely Gallic approach to singing."
"Paris" is not filled with France's modern pop - that means no Air, Phoenix or Daft Punk - but rather a movement known as nouvelle scene.
The compilation consists of chanson reworked by modern French musicians who have revived the style in a way that has found them popping up in the cafes and clubs of Paris and other French cities.
The Old World French sound, with the familiar cry of the accordion, doesn't pop up often - "Ta P'tite Flamme" by Amelie Les Crayons is the most notable occasion - but the songs - whether the Latin-influenced "Samba De Mon CÅur Qui Bat" by Coralie Clement or the poppy "Je Reste au Lit" by Pascal Parisot - will send the imagination on a trip to the top of the Eiffel Tower or on a stroll down the Champs-Elysees.
For those suffering from a nasty travel bug, but without the financial means to escape to Paris (or Rome, Bangkok, Rio de Janeiro, etc.), Putumayo's World Music offers a satisfying audio fix.
Rating: 3 stars
- Mike Hart