Allison Plean
Allison Plean's column appears Fridays in the 4 Points arts and entertainment section in the Steamboat Today. Contact her at 871-4204 or e-mail
aplean@steamboatpilot.com
.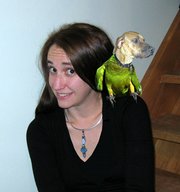 I fell asleep once in a clouded leopard cage with the leopard asleep in my lap. I woke up to find him sitting in front of me for one second before his eyes dilated and he swiped my face.
I got six stitches in the emergency room.
Wild animals should never be domesticated.
When someone told me this weekend there was a pet-quality species of cat called the "bengal cat" - that was a hybrid of a tiger and a domestic cat - I immediately jumped on the information super highway.
I found out that a bengal cat is actually the result of a domestic tabby bred with an Asian leopard cat, and can vary in how pure the lineage is. Plus, one professional breeder paid $4,200 for his second-generation bengal cat. That's a lot of money for a pet.
I was astounded at the amount of documented crossbreeding of species going on around the world. According to Defiant Breeders, there are about 333 bengal cat registered breeders and "cat factories" worldwide. The word "factory" should never be associated with creating living things, especially those not designed by nature.
It's bad enough that we cloned sheep.
I doubt this genetic experimentation is benefiting us in any way other than producing an expensive market for designer pets.
Many issues arise in crossbreeding, including physical size differences, different gestation periods and there are sometimes unequal numbers of chromosomes between unrelated species.
This isn't new. The hybridization of domestic and wild cats was present at the first cat show in July of 1871.
I knew I couldn't have a lion, so I got the next best thing - a lion hunter. When I got my Rhodesian ridgeback puppy, I knew he would grow up to be a large slobbery dog that is very intelligent, yet hard to train.
One of the allures of purebred dogs is that you know what to expect. Size, color and temperament are consistent and predictable qualities because there is a long, proven track record with the breed. You also know to expect inherent health problems.
Mutts rose in popularity in the last couple decades because they tend to be healthier, sometimes are smarter and are abundant and inexpensive to obtain.
But now people want "designer mutts." Some of them have really cute names like schnoodle, beabull, chiweenie, dorkie, papi-poo, and taco terrier.
You've probably heard of the goldendoodle (golden retriever/poodle mix), the cockapoo (cocker spaniel/poodle mix) and the labradoodle (labrador retriever/poodle mix.)
I counted 330 designer dogs on www.dogbreedinfo.com - all containing links to breeders of each hybrid.
The downside of crossbreeds is that you never know what you're going to get. You could get all the good traits or all the bad traits from both breeds, and any combination in between. You have no way of telling how big a crossbred dog will be or what it will look like.
Labradoodles are being bred as assistance dogs that don't shed for people with allergies. That sounds like a good reason, but the crossbreed's traits only become more predictable by breeding multi-generational crosses and venturing further down the generational chain.
I imagine this can result in the dangerous practice of inbreeding.
The United States ran into this problem when breeding white tigers in captivity.
The natural rate of a tiger being born white is about once in every 10,000 births because it requires a double recessive gene.
People continue to breed them at astounding rates because they are economically valuable. According to Dan Laughlin, DVM, PhD, white tigers in the U.S. began with a breeding loan. Every white tiger since the original litter that was born in 1964 has been severely inbred between brothers and sisters, fathers and daughters, mothers and sons, etc :
Inbreeding causes profound birth defects such as immune deficiency, scoliosis of the spine, cleft palates, mental impairments and crossed eyes.
These conditions are a result of irresponsible breeding and have no conservation benefit because the white tiger is not an actual species.
Experimenting with genetics just seems wrong and self-indulgent. It's one thing to use expensive materials to fabricate a designer purse, but where do we get off gene-splicing Mother Nature into designer pets?
We should be spending the time and resources to find a cure for cancer.