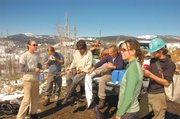 Past Event
Saturday, February 3, 2007, 5:30 p.m. to 10:15 p.m.
Meadows Parking Lot , Mount Werner Road, Steamboat Springs
Not available / $49
Steamboat Springs — Steamboat Springs residents are no strangers to walking on snow, but few likely have snowshoed under a full moon.
"It's a little out of the box to go snowshoeing under a full moon," said Sheila Wright, development director for the Rocky Mountain Youth Corps.
But an outdoor experience is an appropriate fundraiser for the RMYC, an organization that provides youth and young adults the chance to improve communities and the environment through service and educational work on public lands and open spaces.
Long discussions and more than a year of planning helped the RMYC create the idea for its Feb. 3 event to benefit the Yampa Valley Science School.
The Yampa Valley Science School is the RMYC's weeklong science camp for area sixth-graders. The students learn about the environment while "camping" at Perry-Mansfield Performing Arts School and Camp.
The cost to run Science School is about $25,000 annually, and the RMYC has been searching for ways to fund the program that attracts middle school students from Steamboat and Hayden each fall.
The cost to attend the Feb. 3 fundraising event is $49 per person, which includes a gourmet dinner paired with wines and dessert.
A silent auction also will be held with such items as restaurant packages, snowshoes and other outdoor gear.
A shuttle will pick people up at the Meadows parking lot at 5:30 p.m. and take them to Michael and Sara Craig-Scheckman's private residence. Appetizers will be served from 6 to 6:45 p.m.
Two snowshoe tours will leave at 6:45 p.m.
Wright said one snowshoe tour would be an easy walk through rolling meadows. The other snowshoe is a more intermediate walk with hills.
Snowshoes will be provided, but people are welcome to bring their own.
Dinner will be served at 8 p.m. Dessert follows at 9 p.m., and the first shuttle returns to the Meadows parking lot at 9:45 p.m. The final shuttle leaves the Craig-Scheckman home at 10:15 p.m. on Feb. 3.
Sara Craig-Scheckman is the executive director for the Youth Advocacy Project for Routt County, which is funded by the Craig-Scheckman Foundation. Michael Craig-Scheckman is the director of finance for the Youth Advocacy Project.
The Craig-Scheckman Foun-dation, which works closely with the RMYC, also benefits area youth.
For more information or to sign up for the Feb. 3 fundraiser for the RMYC, call 879-2135.
- To reach Melinda Mawdsley call 871-4208 or e-mail mmawdsley@steamboatpilot.com