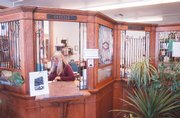 Oak Creek Town Board meeting
7 p.m., Thursday, Jan. 25, 2007 Agenda: 1. Scheduled speakers and presentation - Mike Yurich about centennial celebration for February 2. General business: A. National Parks Service Trails Technical Assistance Grant B. Salary matters C. Health insurance matters D. Bond attorney for Wastewater Treatment Plant Project E. Resolution to borrow F. Hands on Housing legal matters G. Discussion of designated monies for street sweeper, 100th birthday and grader replacement H. Appointment to South Routt Community Center board I. Write off bad debt J. Comprehensive plan update/scheduling of work session K. Staff reports L. Items of concern

Oak Creek — Oak Creek's depleted administrative staff is requesting $8,800 in salary raises to compensate for increased duties and workload.

The raises - which would total about $8,800 - for town clerk Karen Halterman and billing clerk Vivian Johnson will be addressed by the Town Board during its meeting at 7 p.m. today.

Halterman suggested the raises because she and Johnson now handle all of the town's matters, including administering grants, a duty formerly undertaken by ex-mayor Kathy "Cargo" Rodeman.

"I determined that (the raise) would be one-sixth of the salaries that were being paid," Halterman said about comparing the proposed pay increases to what the town has paid for full staffing. "We literally have 2 1/2 (people) left in this department that had five."

Part-time treasurer Sandy Jac-obs is the other town employee.

Halterman presented the Town Board with letters requesting the raise during a budget work session Friday.

During that meeting, Halter-man urged the board to consider the proposal by taking into consideration staff's heavy workload.

"We took a huge cut in staffing," she said. "(The raise of) $8,800 a year is pretty minimal considering what the town is no longer paying in salaries or benefits."