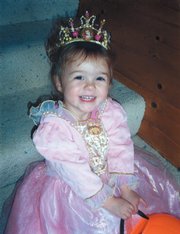 How to help Molly
Donations for Molly Look's medical expenses may be to the "Molly Look Fund" at any Mountain Valley Bank or Vectra Bank branch. Donation jars also have been set up at all North Routt County businesses. Alpine Taxi is accepting donations for Molly Look on Feb. 1. The company will match any donated funds, up to $5,000. Cash or check donations will be accepted at Alpine Taxi's barn at 1755 Lincoln Ave. For more information, call 879-2800, ext. 315.

Steamboat Springs — Molly Look is a gymnast who likes to tease her grandfathers and knows the most challenging parts of life can be cured with a cookie.

"After she got stuck on that fence and scratched herself, in her little mind, she needed to get to Mima's for a Dora (the Explorer) Band-Aid and a cookie to make her feel better," Bob Printy, Molly's maternal grandfather, said Wednesday. "Mima" is her maternal grandmother, Bonnie Printy.

Molly, 3, set out last Wednesday from her home on Routt County Road 52E in North Routt County to her grandparents' house. Molly has made the trip many times by snowmobile or car, he said.

But this time, Molly decided she would walk the mile to her grandparents' home. It was around 8 a.m. and the temperature was well below zero.

The girl ended up spending about 30 minutes outdoors. She apparently lost her pants and boots when she became tangled in a fence. She was found sitting alongside the road wearing only a shirt by passing motorist Kathleen Fitzsimmons. Fitzsimmons took Molly to Yampa Valley Medical Center, and she was later flown to Denver Children's Hospital, where she is recovering from frostbite and hypothermia.

Doctors do not know whether Molly will lose any of her fingers or toes, although she has been getting better every day, Printy said.

On Wednesday, Printy, a former minister, praised Fitzsimmons and the staff at Yampa Valley Medical Center.

"There's no doubt about it - they saved her life," he said. "If (Fitzsimmons) hadn't come along at the right moment, we wouldn't have our Molly. She was very close to not being with us."

Printy described Molly as a "really fun kid" with an impressive vocabulary.

"Talking to her, you'd think she was six or seven," he said. "And she's a very grateful child. It's always, 'That's so wonderful. Thank you so much,' with her."

Molly's parents, Del and Yvette Look, and her older sisters, Lexy, 11, and Kady, 8, live on the same road as both sets of their grandparents. Bonnie and Bob Printy moved to Steamboat Springs about 13 years ago from California after coming to visit their grandchildren.

"Either way, she's got Grandpa a mile away," he said. "She loves kidding with her grandpas."

Printy drives shuttles to Denver for Alpine Taxi and stopped by Denver Children's Hospital on Monday and Tuesday to check on his granddaughter.

"She's coming along," he said. "She's on medication for her pain, and she's slowly starting to eat, which has been a big concern."

Molly's family is optimistic she'll be home by the end of the week if doctors can get her slight fever under control.

Del and Yvette Look have not left Molly's bedside since Jan. 17, he said. They have opted not to talk to the media.

"Their sole concern has been Molly," Printy said. "It was such a shock and a terrible thing. They just wanted to be with Molly. They're still there. They've never left."

Since being at the hospital, the Looks have received an outpouring of community, state and national support, which has been much appreciated, he said.

"We really can't be grateful enough for everything this community is doing for us," he said. "Molly is such a sweetheart and so full of life. She's got a lot of adventures left."