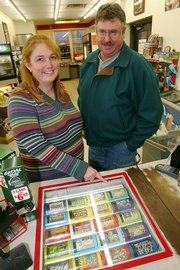 Hayden — Susan Bunn was shaking.
As she raked her dime across a scratch-off lottery ticket she bought Wednesday, the ticket appeared to show she had won $500,000.
But Bunn wanted to be sure so she drove back to Bear River Valley Co-op in Hayden where she works. She made Casey Rolando finish scratching the ticket.
"I was shaking so bad," Bunn said. "I never thought I'd win. You never think it's going to happen to you."
But it did happen to Bunn. She really won $500,000 in the Colorado Lottery's $35 Million Cash Spectacular. Bunn purchased the scratch ticket at the Hayden Kum & Go after work at the Co-op.
"I like that game," Bunn said. "There are so many different ways to win."
There are very few $500,000 instant prizes, said Kristen Shew of Colorado Lottery.
"There were eight instant top prizes and she won one," Shew said. "She was the sixth. We are down to two."
But Bunn holds one distinction from the previous big- money winners.
"I think for this game, she is the biggest winner from a small town," Shew said.
And word travels fast in small towns, so it was no surprise that many people in Hayden had heard of Bunn's big win by Thursday afternoon, as Susan and Mike Bunn were driving over Rabbit Ears Pass on a mad dash to the bank with their check.
"It couldn't happen to a sweeter person," said Penny Turon, who was working at Bear River Valley Co-op on Thursday afternoon. "We are so excited. I can't even tell you. I think we are just as excited as she is."
That's probably because Susan and Mike Bunn are still in shock.
"It really hasn't settled in yet," Mike Bunn said.
The Bunns said they will probably pay off their truck and install new carpet in their Hayden home, but they have no firm plans for the future.
Both will keep their jobs - Mike Bunn works for the Routt County Road and Bridge Department.
Susan Bunn has three children: Chris DeBowes, 16, and Kelsea DeBowes, 12, of Hayden and Allen Idol, 18, who lives in North Carolina with his father.
"He doesn't know yet," said Susan Bunn, vowing to keep her winning lottery ticket a secret until her eldest son arrives early next month.
But Susan and Mike Bunn said they don't expect their lives to change much, something they reiterated while in Denver on Thursday cashing in their winning ticket.
Representatives from Colo-
rado Lottery wanted to know what the Bunns planned on doing this weekend to celebrate.
Susan and Mike Bunn told the representatives that their son Chris is a wrestler, so they will be in Rangely to watch him wrestle Saturday.
Shew said it was a pleasure to meet such a nice and appreciative couple.
"She was real cute and so thankful and so happy," Shew said. "You could tell they were a little bit shell-shocked. They couldn't believe it happened to them. They kept saying it over and over again."
- To reach Melinda Mawdsley, call 871-4208 or e-mail mmawdsley@steamboatpilot.com