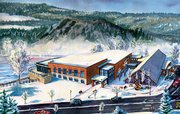 If you go
What: Steamboat Springs Planning Commission meeting to review the proposed expansion of Bud Werner Memorial Library and a pre-application for Bear Claw III, a 10-building development adjacent to the Steamboat Ski Area
When: 6 p.m. today
Where: Centennial Hall, 124 10th St.
Call: 871-8258
Steamboat Springs — The proposed expansion of Bud Werner Memorial Library faces perhaps its largest step in the city's approval process tonight.
During a 6 p.m. meeting at Centennial Hall, the Steamboat Springs Planning Commission is scheduled to review final plans for the 20,000-square-foot, $11.4 million library expansion. If approved, the project would more than triple the size of the current building at Lincoln Avenue and 13th Street.
The commission also is scheduled to review preliminary plans for Bear Claw III, a 10-building resort complex adjacent to the slopes of Steamboat Ski Area.
Tonight's meeting essentially could result in final approval for the library expansion.
Because the Steamboat Springs City Council has given the Planning Commission greater responsibility, a unanimous recommendation by commission members would all but guarantee council approval of the library project.
On Jan. 17, the council quickly gave final approval to The Victoria and Sundance North Village, two large developments that had received unanimous recommendations from the Planning Commission.
Reviews of library expansion plans have been positive.
"I think it's a good-looking building," Tom Leeson, director of city planning services, said last month.
The Minneapolis-based firm Meyer, Scherer and Rockcastle is the primary architectural firm for the expansion. Steamboat resident Scott Myller of West Elevation Architects also is working on the project.
The current library is about 9,500 square feet, Myller said. The expansion includes 23,400 square feet of new space.
The majority of the current library would be "opened up" into a large community room as part of the expansion, for which local voters approved funding in November 2005.
Third time's a charm
Development at Bear Claw III was first proposed in 1985, when city officials approved a 440,000-square-foot complex on the site southeast of the ski area's gondola building. The development did not occur, and the Planning Commission next addressed the site in 2001.
The Atira Group of Steamboat Springs has purchased the Bear Claw III site and now is proposing a 10-building project on land it calls "the last great undeveloped ski-in/ski-out property left on the mountain in Steamboat."
A city planning official called that statement "somewhat true."
"I think the way Ski Time Square could be revised might change that," said Brian Berndt, assistant director of city planning services. "But we'll give (Atira Group) the benefit of the doubt at this time."
Berndt said several steps in the approval process remain for Bear Claw III.
"They're just asking for direction about the housing plan and basic design," Berndt said. "There's still work to do."
- To reach Mike Lawrence, call 871-4203
or e-mail mlawrence@steamboatpilot.com