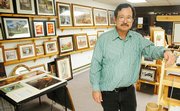 Hayden — Hayden resident Jim Folley turned his hobby into a business last August when he opened Hayden Mat and Frame.
"It's small, but it's right for Hayden," said Folley, 52.
Folley keeps the first project he framed and matted - way back in 1992 - in his downtown Hayden business. It's a picture of his two sons, who are now adults, wearing their Little League baseball uniforms.
"I'm a big baseball fan," Folley said.
He started collecting autographed prints of famous baseball players and matted them for family and friends. Then he expanded his hobby to beyond just baseball.
"I really got carried away and started buying the record-breaker from every sport," Folley said.
Folley and his wife, Joyce Folley, moved from Modesto, Calif., to Colorado in 2005 to help care for Joyce's mother, Mary Denker.
They moved from Craig to Hayden in April.
"I think we both like the small community," Folley said.
Folley, who most recently was a manager at The Home Depot in California, considers himself semi-retired, but he also substitute teaches for the Hayden and Moffat County school districts. He said he figured he would open a shop in Hayden to provide a service that was lacking in the small West Routt County town.
"It's one of those things where if you know how and have the right tools, you can do it yourself," said Folley, adding that he chose to open his business in Hayden because of the reasonable rent.
His passion for signed prints of athletes has stayed with him. A wall in his shop is dedicated to sports memorabilia, including that of famous athletes such as Kobe Bryant, Peyton Manning, Dale Earnhardt, Larry Bird, Jake Plummer and John Elway.
"Elway still seems to be the most popular player in Hayden," Folley said.
In addition to the framed sports memorabilia, Folley does more traditional framing and matting to order. Materials include cedar frames and handmade rustic barn wood frames, which he said are the most popular. He has a variety of prints for sale, but most people bring their own to be framed, Folley said.
He said a lot of his customers come from Steamboat or Craig, and he gets a lot of repeat customers.
"There are a lot of people that have had things for years, and now they're getting them framed," he said.
Hayden Mat and Frame has some untraditional hours, but that has not kept business away.
"So far it's picking up little by little, like it should," Folley said. "It's enough to keep me busy."
The store is open from 4 to 7 p.m. Tuesday through Friday and from 11 a.m. to 5 p.m. Saturday. Call 756-6288.
- To reach Matt Stensland, call 871-4210
or e-mail mstensland@steamboatpilot.com