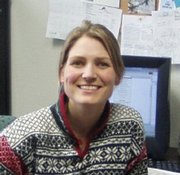 Steamboat Springs — An experienced environmental educator with a law degree from the University of Colorado is the new executive director of Yampatika.
Jenn Wright replaces Stacy Kolegas, who relocated to Arizona for personal reasons after a year with the local nonprofit organization.
Yampatika describes its mission as providing an understanding of the natural and cultural resources of Northwest Colorado. Lindarose Berkley, president of Yampatika, said Wright will help the organization reach "new heights" in terms of expanding its educational programs while building the membership base and exploring new fundraising initiatives.
"Yampatika is poised for growth, and her contribution will be invaluable," Berkley said. "Over the past year we have refined our focus and eliminated the retail section of our organization. We are exclusively focused on what we do best - environmental education."
Before joining Yampatika, Wright worked with the Wilderness Society to support public lands policy. She earned a bachelor's in environmental science from the University of Virginia and later concentrated on environmental law and policy at the University of Colorado Law School. She worked as an educator and naturalist at the Aspen Center for Environmental Studies and is experienced in developing and implementing environmental education programs for people of all ages.
"I see a great need for and interest in the children's programs in this region," Wright said Monday as she made the move from the Front Range to Steamboat Springs. "We have a terrific opportunity to bring kids out into our environment and inspire them to discover, learn and connect with their surroundings. I want to inspire them to have an appreciation and involvement for the natural resources we are so lucky to have in this area."
Wright said she made the decision to return to environmental education after working in conservation policy because of her conviction that education is vital to fostering and inspiring stewardship.
"People take care of the resources they know, understand and appreciate," Wright said.
Wright will work with Yampatika's senior naturalist, Karen Vail, and winter naturalist, Jada Lindblom.