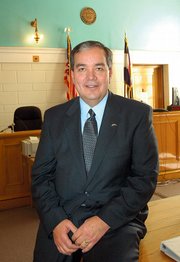 Steamboat Springs — County officials said Monday they have never seen a salary request similar to what Routt County Sheriff Gary Wall has proposed for his second-in-command.
Wall is scheduled to appear before the Routt County Board of Commissioners at 9:35 a.m. today to request that Undersheriff David Bustos receive a starting salary of $82,077, which is a "Step 9" salary on the county's 11-step pay scale. County employees typically receive a one-step pay increase per year of employment, Routt County Personnel Director Chris Hensen said. The county's Step 1 salary for its undersheriff is $64,022.
Although county statute permits Routt County Manager Tom Sullivan to approve a Step 2 or Step 3 starting salary - should the applicant meet specific criteria related to professional experience and education - commissioners must approve any request higher than Step 3.
And since the adoption of the county's 11-step pay scale in 1993, a Step 9 salary has not been requested for a new employee.
"It's never happened here," Sullivan said Monday.
In 2005, Hensen said, commissioners approved Step 5 starting salaries for two new Sheriff's Office employees, former Sgt. Ray Birch and current Dep. Jeff Bond. Birch, now chief of the Hayden Police Department, had prior experience including three military tours of duty, service as an officer with the Pomona Police Department near Los Angeles, and service as chief investigator for Colorado's 14th Judicial District.
County Commissioner Nancy Stahoviak said Bond also had years of prior experience, including serving as a deputy for a sheriff's office in Florida.
"Step 9 is fairly high," Stahoviak said about Wall's request.
During a brief meeting Monday with county commissioners, Wall said Bustos is worth the increased salary.
Wall said 23 employees have left the Sheriff's Office in the past two years, largely because of problems with the administration of former Sheriff John Warner. Wall said many of the employees who left were "run out because of fear and intimidation."
"That's the kind of thing Dave Bustos and I will be able to eliminate," Wall said, adding that training new employees costs the county "a minimum of $20,000" each.
"There are specific reasons why people left, and they won't be leaving for those reasons under my administration," Wall said. "Dave Bustos will facilitate that - that's a huge benefit to this county."
Attempts to reach Warner and previous undersheriff Dan Taylor were unsuccessful Monday.
Wall said a Step 9 salary for the undersheriff fits in the county's budget because of the salary of Taylor, a 12-year Sheriff's Office employee whom Wall did not retain.
Although Wall and Bustos worked together in the 1970s as Vail's police chief and assistant police chief, respectively, Bustos' professional experience is unclear because of a lack of dates on his resume.
Commissioner Doug Monger asked Wall to clarify the dates of Bustos' experience before today's meeting. Wall said he would call Bustos and get all the relevant information.
Before his Jan. 9 swearing-in as undersheriff, Bustos worked for American Skiing Co. as a security officer at The Canyons Resort in Utah.
Wall said Bustos will receive his state Peace Officer Standards and Training certifications in late February, and that he has a wealth of life experience that is relevant to the position of undersheriff.
"To take only his experience as a law enforcement officer as qualifications for the undersheriff position is wrong," Wall said. "It's a hugely administrative job. It's managing people, motivating people and improving morale in the department. It's a person's experience in life, in dealing with employees and people, and it's sharing my philosophical views about improving morale : that will reduce dramatically the turnover, which costs the county thousands of dollars. My position is that (Bustos) is exactly that man."
If commissioners approve the Step 9 salary, Bustos will earn more than Wall, whose salary is $76,000 a year.
"I think it's appropriate because of who the person is and because of the amount of money he and I are going to save the county," Wall said. "You can't find good people and bring them in at a low rate."
- To reach Mike Lawrence, call 871-4203
or e-mail mlawrence@steamboatpilot.com