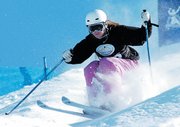 Steamboat Springs — Erik Skinner summed up his team's showing at last weekend's Rocky Mountain Division freestyle meet in Steamboat Springs with one word.
"Awesome," the Steamboat Springs Winter Sports Club's freestyle program director responded when asked how the members of his team performed at the event, which was held on the Voo Doo ski trail at the Steamboat Ski Area. "I was so psyched for our kids and the way we skied from top to bottom. I would say that 37 of the 40 skiers we had in the event reached, or exceeded, their potential - and I can't say that after every competition."
The team's top showing was reflected in the results.
Steamboat's Abe Maynard won Friday's opening mogul competition, and then repeated the feat Saturday. Teammate Bartley Damon won Sunday's dual mogul event. Caterina Mader was third in Friday's event and second in Saturday's competition, and teammate Kara Johnson was fourth in Sunday's dual event.
"There were a few flukes last weekend, but for the most part our skiers performed well, which should help the younger ones qualify for Junior Olympics and the older ones earn points for nationals," Skinner said.
Friday's event opened under a bright blue Steamboat sky. Skiers had to deal with frigid weather in the morning, but like the competition, the weather heated up by the afternoon.
Maynard led the pack, picking up his first victory in a divisional event with a score of 24.56. Team Summit's John Eaton was second, followed by Team Summit skier Riley Campbell in third. Other top Steamboat finishers included Christopher Gebhardt in fourth, Broc Sheue in ninth and Colton Harding in 16th. Nic DeVos was 22nd, Scott Roche was 28th and Bartley Damon was 32nd.
Killington's Kelsey Albert won Friday's women's event. The top Steamboat finisher was Mader in third. Teammate Erica Damon was seventh, Johnson was ninth, Camille Bucci was 14th, Karinya Turnbull was 16th and Alyssa Roche was 18th.
Maynard picked up his second win of the weekend Saturday. Steamboat's Hanian was second, and Telluride's Jimmy Discoe came in third. Steamboat's Gebhardt was fifth, Luke Kamieniecki was sixth and Bo Randolph was eighth. Whitney Henceroth topped the women's results. Mader was second and Jordan Poyfair was third. Other top Steamboat finished included Johnson in eighth, Shelby Dyer in 18th and Alyssa Roche in 24th.
The events came to a close Sunday with the dual mogul event. Once again, Steamboat skiers shined.
The men's final came down to a battle between two Steamboat skiers, with Bartley Damon edging Hanian for the title. Sheue was sixth, Scott Roche was seventh, Maynard was eighth, Taylor Miller was ninth and Randolph, Dalton Lee, Allen Morgan and Harding tied for 17th.
Team Summit's Mikaela Matthews topped Vail's Kristi Waring for the title in the women's dual. Steamboat's Johnson just missed the podium, finishing fourth. Mader tied for 15th along with Erica Damon, Dyer, Sierra Weir and Alyssa Roche.
Steamboat is scheduled to host the Junior Olympic Championships in March, when ahletes will compete in moguls, aerials, halfpipe and slopestyle.
- To reach John F. Russell, call 871-4209
or e-mail jrussell@steamboatpilot.com