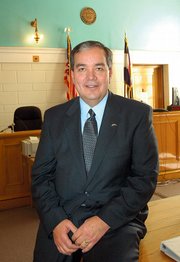 Routt County Undersheriff David Bustos will be paid a starting salary of $64,022, about $18,000 less than what Sheriff Gary Wall asked county officials to approve.
During a hearing Tuesday, the Routt County Board of Commissioners said starting Bustos at Step 9 on the county's 11-step pay scale set a bad precedent and that Bustos is not qualified to receive an $82,077 salary.
Wall said Bustos deserved the higher salary because his job is "highly administrative" and because of his experience as an assistant police chief. Wall told the commissioners he was not asking for any more money than what already was approved in his 2007 budget.
Wall also said that approving the Step 9 salary request would give him a "tool" to fulfill his campaign promise of addressing poor employee morale and high turnover rates at the Sheriff's Office.
After a brief discussion and a report from county personnel director Chris Hensen about Bustos' education and related job experience, the commissioners voted to pay Bustos at an entry level with the opportunity to move up the pay scale when his POST, or Peace Officer Standards and Training, certification is renewed in February.
Hensen noted Bustos doesn't have a bachelor's degree, but that he does have about 12 years of law enforcement experience, including six years as the assistant police chief in Vail and as Jefferson County Sheriff's Office deputy, six years working as a security guard for American Skiing Co. in Utah, and in private investigations. Bustos has completed several police training classes in Golden, Jefferson County and the FBI National Academy in Quantico, Va. Additionally, Bustos has management experience from when he worked in the Texas oil and gas industry from 1978 to 1990.
Because Bustos' law enforcement experience was in the 1970s and because his POST certification will not be active until February, County Commissioner Nancy Stahoviak said she didn't think Bustos met the "minimum requirements for the job" and recommended starting Bustos at Step 1 with the opportunity to move to Step 3 once his POST certification renewal is complete. The Step 3 salary is about $68,000 a year.
"This is a consideration if the person's qualifications meet our (pay scale) guidelines," Stahoviak said. "In this case, I do not think (Bustos) meets the minimum requirements for the job."
County Commissioner Diane Mitsch Bush told Wall the county's pay scale is in place for a reason and that starting one county employee at Step 9 could be viewed as unfair.
"We have to follow the rules," she said. "Rules provide reliability and a basis of trust for both current employees and the public that we won't make special exceptions."
Wall said Bustos' position is statutorily required and that he is not like any other county employee.
"It's not like it's a question of if I can have an undersheriff or not," he said. "If I croak, he's sheriff until another is appointed or elected. It's unfair to equate (Bustos) to any other county employee. It's not the same."
County Commissioner Doug Monger encouraged Wall to continue addressing morale and high turnover rates at the Sheriff's Office, and that the county wants to be a part of that process - but not by approving a Step 9 salary for the undersheriff.
"I care about the turnover rate, too, but I'm not stepping out of our policy," he said.