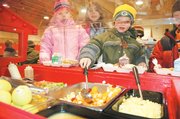 Steamboat Springs — The Steamboat Springs School Board wants the new Soda Creek Elementary School to be a "green building," but it does not want to spend hundreds of thousands of dollars on a plaque.
The board decided not to allocate $550,000 to $600,000 to pursue a bronze Leadership in Energy and Environmental Design certification, but directed architects to follow LEED directives as they attempt to make Soda Creek a "green building," which gives the district flexibility in the future.
Architect Leland Reece and colleague Brian Risley reiterated that LEED certification may not have been in the district's best interest in terms of finances or in function.
"Using (the LEED) template will allow us to pick and choose things that make sense for Steamboat and this particular building," Risley said. "If you go for the certification, there may be things we have to pick for certification that may not be appropriate for this location."
The LEED certification criteria are specific and have to be followed even though they were established for businesses instead of schools. The Steamboat school district would have had to acquire points throughout the construction process, and a portion of the LEED certification cost and points were based on expensive documentation.
The cost of LEED certification had one board member questioning the necessity of a piece of paper or a plaque.
"So if we do this, something is going to have to give the way I look at it," Pat Gleason said. "Our site's a given, and that's a big piece of (LEED certification,) so ... we can't even start building from point zero. Half this stuff we can't address because we are site specific."
Instead, during Monday's regularly scheduled meeting, the School Board unanimously authorized architect Reece to spend $11,200 on a cost analysis study to determine the best mechanical system for Soda Creek based on the mountain environment. The board also authorized Reece to spend an additional $79,000 on LEED-based initiatives.
"Incorporating some of those upfront costs, there is some significant amount of work in doing it, and I think it will bear fruit," Reece said. "You will get the very best mechanical system you can afford."
Board member Jeff Troeger handed fellow board members a list of questions he wanted addressed during the construction process before Monday's meeting, including concerns about energy savings for the next 50 years, the use of healthy construction materials and the flexibility of the building as technology changes.
"Those are the goals I have whether or not it's LEED, LEED-certifiable or 'green,'" Troeger said. "I'm not hung up on (the terminology). The real cost isn't just the purchase price. It's the cost of operating the building over its functional lifetime. To me, this is where we should start on the debate."
But Reece reiterated that the board needs to make decisions if it wants to follow its timeline.
"It's unfortunate that we are on such a short timeline, but it is a fact," board president Denise Connelly said. "Now, we have to make some of these decisions so we can go on ... Are we committed to having a green building and doing as much as we can for energy efficiency? What I was hearing was that there was a commitment to that."
The board also unanimously approved revised plans for Strawberry Park Elementary School.
Based on community concerns, architects moved the addition to the west side of the school approaching the existing trail and wetlands area. Reece said there is room to alter the plans if the wetlands are approached.
The revised plans allow all classrooms an exterior exit and an outdoor view as per new state codes. The new plans also avoid adding to the south end of the school, encroaching the parking lot and flow of traffic, which parents and staff said was a safety hazard.
"I think this design is strong that it would occur on just this location on one side of the building," Risley said. "We think this would be more cost effective. The interruption and disruption, we feel, would be minimized with this addition as opposed to two additions."
A final decision on whether or not to move lunch to the arcade instead of the gymnasium was not made, and Strawberry Park Principal Mark MacHale said he is going to seek more staff and parent feedback, but Reece said a decision has to be made in the next two to three weeks to accommodate plans for a new kitchen.
- To reach Melinda Mawdsley call 871-4208
or e-mail mmawdsley@steamboatpilot.com