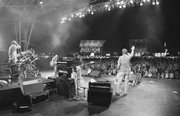 Steamboat Springs — The Bud Light Rocks the Boat Concert Series begins Feb. 17 with a lineup of five nationally known bands.
"This is absolutely the best lineup of bands to take part in the Bud Light free concert series, period," said Andy Wirth, vice president of sales & marketing for the Steamboat Ski & Resort Corporation. "This is the seventh season of the Bud Light Rocks the Boat Series and, as evidenced by the talented array of artists, has reached an entirely new level."
The bands will appear in this order: Joseph Israel and the Jerusalem Band, North Mississippi Allstars, The Freddy Jones Band, Sister Hazel and Big Head Todd and the Monsters. All of the bands will appear on stage in Gondola Square, which each concert beginning at 3 p.m.
The Freddy Jones Band played for the first time in this series last year. It was also the first year the band started touring again after a seven-year hiatus.
"Steamboat was the first time that we played live on the radio," drummer Simon Horrocks said. "Colorado is the logical place for us to go back. It was one of the first markets that really embraced us as a band."
Sister Hazel also has a connection with Steamboat Springs. They started The Rock Slope music festival here in 2004 and chose Steamboat because of the people.
"Once we got there, they were very creative and really connected very well with what we were trying to do by building a community, and are passionate about life and coming to together eager to get down and were a pleasure to work with," said Ken Block, lead singer of Sister Hazel. "They think outside the box and are not afraid of interesting new ideas, and we didn't scare them a bit."
The Bud Light free concert series is presented by the Steamboat Ski & Resort Corporation, Bud Light and Great Knight Productions and is a great way to end a long day of skiing.
"There isn't a better way to enjoy an incredible spring outing in the mountains than by combining a day on the slops with plenty of sunshine and a free concert by a rockin' band," Wirth said.
- To reach Allison Plean, call 871-4204
or e-mail aplean@steamboatpilot.com