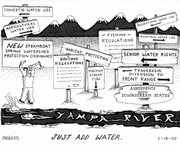 The Steamboat Springs City Council was right to slow down movement on a proposed watershed ordinance. There are a lot of questions that must be answered before such regulations can be justified.
There is a draft of the ordinance that the council has now considered twice, most recently last Tuesday. But after nearly an hour of public comment and discussion - much of it in opposition to the ordinance - the City Council resolved to form a committee that will gather public input about potential impacts of watershed protection. The committee will make a recommendation on an ordinance that might be more agreeable to all parties involved.
That was a smart step for the council to take in a process that had been handled sloppily to that point. Council member Paul Strong admitted as much at Tuesday's meeting. "I'm glad that we have slowed down this process," Strong said. "This is a city issue that has been handled poorly so far. At this point in time, I don't think it's a legal issue - I think it's a public relations issue."
The ordinance, as initially written, would require landowners in designated rural areas to obtain a permit from the city for activities including excavation and grading; use of any pesticide or herbicide; removal of any vegetation or trees; alteration of any watercourse; and discharging pollutants into any watercourse.
Each of the three designated areas covers a five-mile radius around current and future city water supplies. The areas surround the city's Fish Creek Municipal Water Intake, near Fish Creek Reservoir and Long Lake east of the city limits; Steamboat's Municipal Well A, south of the city limits along portions of Colorado Highway 131; and a future water diversion on the Elk River northwest of the city limits.
No one objects to the city's goal of protecting the city's future water supplies from pollutants. But the city has not come close to demonstrating that this problem is so pressing that it requires the rather drastic measure of giving the city regulatory authority over projects outside the city limits.
The city had no conversations with the Routt County Board of Commissioners, which does have jurisdiction over the affected areas, prior to drafting the ordinance and discussing it for the first time on Dec. 19. No doubt that lack of communication spawned some of the anger from rural landowners at last week's meeting.
County commissioners already sent a letter questioning the ordinance. Routt County has in place an erosion and control permitting process that the city's ordinance would, in part, duplicate. If the city has concerns about watershed protection, shouldn't it first seek to strengthen the county's policies before adopting its own?
In addition to commissioners, others are opposed to the watershed ordinance, including agriculture organizations, area legislators, area water conservation districts and outlying towns. Getting input from those segments will be key to any successful ordinance.
We should stress that state law allows Colorado municipalities to enact regulations protecting water supplies in areas outside of a city or town's boundaries. That law was the impetus for the city's pursuit of a watershed ordinance.
It's good to see the City Council stepping back to find out not only if the watershed ordinance is legal, but also if it's the right thing to do.