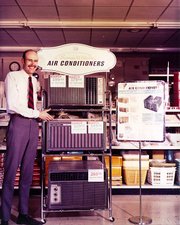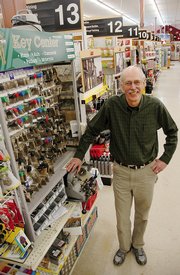 Steamboat Springs — The Swansons have been in the hardware business for 60 years, but there are some things that will never change.
"The presentation is different, we have more variety than we used to have, there is more competition, but other than that, it's about helping people get what they need so they can fix something," said Dennis Swanson, who stands six feet, seven inches tall, which makes it easy for him to spot customers who look like they need help at his Ace at the Curve hardware store in Steamboat Springs.
Owning a hardware store is a special business, said Swanson, 67. It's not like a pharmacy, for example, where all the customers are sick.
"It's just a fun business because you have great customers," he said. "The reason I say that is the customers we have are people who are trying to fix things and those are different customers. They are more upbeat, happy people."
Swanson first opened a hardware store in Steamboat in 1984 with his brother Wayne Swanson, who recently passed away. The brothers grew up working in the hardware store business.
Their parents, Arthur and Marian Swanson, bought their first hardware store in Batavia, Ill., in 1946. They were the fifth family to own the store, which originally opened in 1846.
The Swanson brothers began working in the store full time after school and, in 1968, the brothers bought the store from their parents. They opened another store in Aurora, Ill., and in 1983 moved to Steamboat with their families.
"The one thing we kept on saying about Steamboat was there was great community spirit in the town," said Swanson, talking about the time he traveled around Colorado with his wife, Joy, looking for a new home.
The brothers also noticed a need for a hardware store and opened a True Value Hardware in Riverside Center, on U.S. Highway 40, not far from where they opened the current Ace store location two years ago. Two years later, they opened a fourth store in Glenwood Springs.
Since then, the two Illinois stores have been sold, and Swanson said he was forced to close the Glenwood Springs store last year because it was condemned to make room for a school parking lot.
"I'm pro education, but that was a little tough," said Swanson, whose philanthropic service includes seats on the East Routt Library District and Strings in the Mountains boards. "That store was really successful."
The Steamboat location now is Swanson's only store. It is one of 6,000 Ace stores in the United States - all of which are independently owned. The Ace company is owned by the individual owners of the stores, and functions like a co-op to aid the owners in buying products in bulk at lower prices.
Swanson credits loyal customers and a strong team of employees for the family's success in the hardware business.
"One of the things Wayne and I always enjoyed was the acceptance from the ranching community," Swanson said. "We've heard some great stories."
During the Christmas season, more than 1,000 people visit the store each day, Swanson said. That is one out of every 20 people who live in Routt County.
Scott Schlapkohi and Doug Post are co-managers at the store and have worked for the Swansons since the original Steamboat location opened in 1984.
"Without the people who work here, I wouldn't be able to do this," Swanson said.
The feeling is mutual with his employees.
"Denny and Wayne and the Swanson family have treated me like family," said Post, who was also raised working in
hardware stores. "They're very kind and generous."
Post has worked there for 23 years.
"It's kind of unheard of - unless you work for a large corporation - to work at the same place for 23 years," Post said. "I like this place. There are a handful of stores that represent the community, and I think we're one of them."
Wayne Swanson stopped working at the business because of a struggle with Parkinson's disease, but although he had not worked there for some time, a sense that something is missing still lingers at the store since the 72-year-old passed away Dec. 23, 2006.
"We were a good team," Swanson said. "He was obviously someone I could trust."
"They were business partners, brothers and best friends," Post said.
Post said Wayne Swanson had started a recurring joke, because Post had spent his entire life in hardware stores, but Post himself admits he is not that handy.
"He taught me a long time ago that the key to good sales at a hardware store is to read the packaging faster than the customer can," Post said, jokingly.