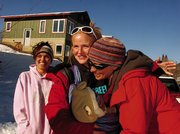 Oak Creek — When Corine Schweikert found out she had to help build her house and five of her neighbors' houses as part of a self-help housing project, she couldn't help but laugh.
"I didn't even know how to use a hammer. I literally could not hammer in a nail," she said. "Now I can do roofing, I can do cabinets, whatever."
Schweikert, her husband, Jamie, and their three children, Porter, 6, Arion, 4, and Dugan, 3 months, are one of six Oak Creek families that received a new home through the self-help housing program funded by the Yampa Valley Housing Authority and a grant from the U.S. Department of Agriculture Rural Development.
On Wednesday, four of the families helped cut a ribbon on one of the homes to celebrate the completion of the homes. About 40 people from the housing authority, U.S.D.A. Rural Development and other local officials attended the event, which included a ribbon-cutting, refreshments and tours of the homes.
Elizabeth Black, executive director of the housing authority, congratulated the families on their hard work. As part of the program, the families were required to complete 65 percent of the labor required to build the home by spending 30 hours a week building them. None of the families were allowed to move in until all the homes were completed.
"This has been a long day coming," Black said. "Here's to the blood, sweat and tears I said this project would take. This project contained all three, but you all overcame, persevered and got your homes built."
The homes are above the Oak Creek Ice Rink on Grandview Avenue.
The six families include a wide cross-section of Routt County's population including newlyweds, single parents and a family with three children, said Curtis Church, the housing authority's self-help program manager.
The housing authority has built 21 self-help homes in Routt County including seven in Steamboat's West End Village, eight in Hayden and the final six in Oak Creek.
The goal of the project is to provide Routt County residents with affordable housing to keep them living and working in the county.
"We are supplying affordable housing to keep our county a viable place to call home," he said. "These people won't ever leave because they couldn't afford a home here."
Mike Bennett, the state director for the U.S.D.A. Rural Development, told the group Wednesday the families accomplished much more than just building a home.
"You built a community," he said.
Schweikert agreed.
"Really, this is more than just a neighborhood, it's a family," she said, as tears welled in her eyes. "There's a story behind every single one of these homes, and we know them all. We all know every stick in every home."
Andrew Schmidt echoed Schweikert's sentiment.
"There's no doubt about it, that it was hard and stressful," he said. "But it makes it all worth it to know that you built your house, and your neighbor's house, almost all by yourself."
The other homeowners include Dave Maris and Kim Brooks, Lynne Paschal, Dale Morvay and Mary Jo Farrer.