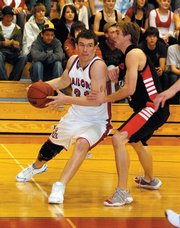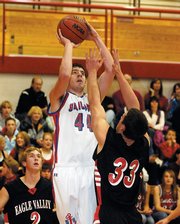 Steamboat Springs — Steamboat Springs boys basketball coach Kelly Meek knew junior guard Michael Vandahl had it.
His teammates knew he had it.
Even Eagle Valley knew he had it. Still, there was little the Devils could do to stop the 5-foot-10 inch guard during the second quarter of the Sailors' 71-40 victory Friday night.
After playing a sluggish first quarter where Steamboat (10-3 overall, 5-0 in league play) found itself down 17-14, Vandahl took over.
Eagle Valley (3-10, 2-4) scored the first two points of the second quarter to make it 19-14, before Vandahl hit four 3-pointers in a row, dished out two assists and added a layup for good measure.
"It feels pretty nice when you don't miss," said Vandahl, who outscored Eagle Valley 14-2 in the second quarter by himself. "I just kept shooting it and it went in."
Vandahl's performance in the second was a microcosm of the Sailors' performance overall in the second and third quarters.
After Eagle Valley scored its lone bucket in the second quarter, Steamboat didn't allow another Devils field goal for more than 13 minutes. In that same span, the Sailors outscored the Devils 41-1. Eagle Valley's Mike Smith hit a 3-pointer with 2 minutes, 17 seconds left in the third quarter to finally break the streak, but the damage had been done.
"Steamboat's a good team even when they don't shoot like that," Eagle Valley coach Pat Gabriel said. "Michael Vandahl is a really good player ... we knew he would fill it up and he did."
In the first quarter, it looked like Eagle Valley might be able to pull off the upset. All five starters scored for Eagle Valley, including two 3-pointers from Matt Barker.
"We came out very sluggish," Meek said. "Just sluggish defensively and it carried itself right over into the offensive end."
Then, in the second quarter, Meek said he decided to go to Vandahl.
"You never know when he is going to hit the streak," Meek said. "We start running sets at him when he's got the stroke going."
Vandahl led the Sailors with 24 points and nine assists. Aaron Calkins had 19 points and nine rebounds and Colby Kostur had 10 points, five rebounds, five assists and four steals.
- To reach Luke Graham, call 871-4229
or e-mail lgraham@steamboatpilot.com