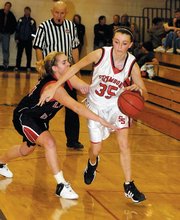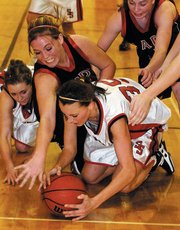 Steamboat Springs — Finally.
The Steamboat Springs girls basketball team limited its turnovers, handled pressure and was aggressive on the offensive end Friday night.
The end result was a 48-36 win against Eagle Valley, the Sailors' first win of the season and the first for new coach John Ameen.
"It's a big monkey off my back, but more importantly off the girls back," Ameen said. "We played as good as we needed to. Still, we could have played better. But you always walk away from a win with your head up."
After seemingly dominating the first half in their last game against Palisade only to give the lead up in the third quarter, the Sailors (1-11 overall, 1-4 in league play) found themselves in an eerily similar position Friday night.
Steamboat had a 27-19 lead after two quarters, but Eagle Valley quickly cut the lead to four at 29-25 with 6 minutes, 18 seconds left in the third quarter.
But the Sailors didn't wilt. They responded with a 9-2 run to make it 38-27 early in the fourth quarter.
"We handled (the pressure) better than the Palisade game," Ameen said. "Yet, (it was) not good enough where we could keep our offense in sync. It was better, but it still needs to go up another notch."
If there was a quarter the Sailors won the game, it was the first.
Junior Emily Stockdale made her first three shots of the game to give the Sailors a quick 7-0 lead. After Eagle Valley (1-12, 0-6) made it 11-5 with less than two minutes to go in the quarter, Sailors senior Shannon King hit back-to-back 3-pointers to give Steamboat a 17-7 lead heading into the second quarter.
"I told them in the locker room that against Palisade we were aggressive in the first quarter on both ends of the floor," Ameen said. "Tonight it just carried over."
In the second and third quarters, Eagle Valley outscored Steamboat 20-16, but in the final quarter, the Sailors forced 13 Devils' turnovers to put the game away for good.
Emily Stockdale led Steamboat with 18 points. Lizzie Stoll had nine and Shannon King and Gracie Stockdale each had six points.
"The main difference was we played as a team," Emily Stockdale said. "We feel a lot better. We feel a lot more confident now."
- To reach Luke Graham, call 871-4229
or e-mail lgraham@steamboatpilot.com