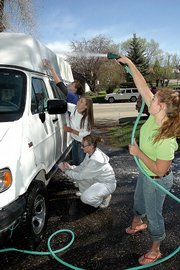 Steamboat Springs — Routt County United Way exceeded its fundraising campaign goal of $550,000 by $5,000.
"The true impact of United Way is not just about hitting this goal," said Mark Andersen, executive director of Routt County United Way. "It's about the impact we have in our community and because we were able to achieve our goal, we are able to support the agencies that provide those services."
The fundraising committee restructured its campaign this year by creating four teams within the United Way board of directors, and raised its goal by 10 percent from last year's figure.
"We took a two-prong approach through the Summit Club mailing and workplace giving," said Bryna Larsen, co-chair for the fundraising campaign. "We set an aggressive goal knowing that Steamboat is truly a giving community, and we were certain we could obtain that goal."
United Way supports about 40 health and human service agencies in the county but benefits almost every resident.
"I challenge people to tell me they haven't been touched by one of the agencies through the United Way," Larsen said. "You don't have to be poor, indigent and hungry to be touched by the United Way. You just have to be part of the community."
Every level of the community is supported by member agencies such as the preschools, Boy Scouts, Girl Scouts and Partners in Routt County.
Giving money to help charities is not something people have to do, Larsen said. "It's something you want to do."
It was a united effort of workplace campaigns and individuals that allowed United Way's goal to be reached and surpassed.
"Making that goal illustrates to the community that people want United Way to continue on and continue to get ahead," Larsen said. "It's pretty inspirational and fun to be part of it this year, and Mark Andersen is so fantastic. We are lucky we got him because he is just a tremendous director and a top-notch guy."
Every year the campaign seems to raise more money for and from the community.
"I'm just so proud of everybody for pitching in and making this happen this year," said Nancy Lundquist, co-chair of the fundraising campaign. "It's a wonderful testament to the people that work with United Way and get this job done."