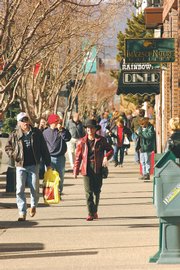 Steamboat Springs — The city of Steamboat Springs saw another increase in sales tax revenues for the month of November.
The city released November numbers Thursday. Citywide November sales tax revenues were up 6.74 percent compared to November 2005. With only December sales tax numbers left for 2006, the city is up 12.03 percent over 2005. Through November, the city had collected $15,735,309 from sales tax. During the same period in 2005 the city had collected $14,045,401.
The city is funded almost solely by sales tax revenues.
"I think we had a pretty good preseason and Thanksgiving holiday," said Sandy Evans Hall, executive vice president of the Steamboat Springs Chamber Resort Association.
November is one of the smallest months - along with April, May and October - in terms of sales tax revenues, but Hall thought a considerable number of people were in town.
There were more hunters and construction workers occupying hotel rooms, she said.
The sales tax revenues are broken down by region and category, such as "sporting goods." Revenue generated in the area of the U.S. Highway 40 corridor was up nearly 11 percent this November compared to November 2005. Downtown revenues were down more than 1.5 percent.
For the second month in 2006, "miscellaneous retail" sales tax revenues were down in the downtown region. November 2006 revenues were down 7.3 percent compared to November 2005.
Main Street Steamboat Springs Executive Director Tracy Barnett said the decrease might be partially due to some stores that had closed and were in the process of reopening.
"Even if they were open it would have been close," Barnett said. "It doesn't look great obviously, which just shows why we need to work hard to make it better."
Downtown restaurant revenues have increased every month compared to 2005. Downtown revenues overall are up nearly 5 percent compared to the same time period in 2005.
Hall said that compared to other Colorado resort communities, Steamboat's monthly taxable sales totals show Steamboat has a diverse economy.
"We're seeing a lot more construction, residential and regional growth," Hall said. "Those all add to a more year-round taxable base."
Hall said she is anxious to see December's numbers, which will be released in a month. Historically, December is the biggest month in terms of sales revenues. The numbers are a good measure of how the business community did during the Christmas shopping season.
"I think we had a pretty good December," Hall said. "If we match last year that will be great."
- To reach Matt Streisand, call 871-4210
or e-mail mstensland@steamboatpilot.com