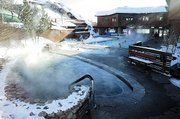 Steamboat Springs — Soak in the Old Town Hot Springs while you can.
The hot pools at the recreation center likely will be closed for reconstruction from April to November, Steamboat Springs Health and Recreation Association Director Pat Carney said Thursday. Reconstructing the hot pools to add more natural elements and two new waterslides is the first phase of a possible $8.5 million expansion of the recreation center.
Health and Recreation Ass-
ociation board members announced intentions in November to expand the downtown facility and are now hosting a series of public meetings to gather input about specific expansion plans and strategies for funding.
"The facility is showing its age," said board member Stuart Handloff. "It is overcrowded more often than not."
The board is working with architectural firm Sink Combs Dethlefs, of Denver and Fresno, Calif., to design two phases of the expansion. The first phase would cost about $2.5 million and includes extensive renovations to the hot pools. The second phase would cost about $6 million and includes renovations to 10,000 square feet of the center's second floor, which houses cardiovascular equipment, weight rooms and locker rooms. The expansion's second phase also includes construction of a 12,000-square-foot addition to the center's second floor over the current parking lot, providing more exercise rooms, expanded locker rooms and a meeting room with a kitchen.
Carney told a crowd of nearly 20 people Thursday that plans for the second phase are very tentative and depend on a number of unresolved issues, such as a possible city purchase of the neighboring U.S. Post Office; future plans of a community group called Citizens for a Recreation Center, which could place a brand-new recreation center on the 2007 city ballot; and how to fund the cost.
Carney said the Health and Recreation Association can borrow about $4 million and has about $600,000 saved for construction, which means ample funding is available for renovating the hot pools.
Carney said she is "90 percent" certain that such a renovation will occur this year, closing the hot pools for eight months.
The recreation center has about 5,500 members, said Carney, who acknowledged that closing the hot pools would drastically affect services at the center.
"Our members are going to be greatly inconvenienced," she said. "Something has to be done."
Carney said the board is considering several ways to compensate members for the reduced services. She said extending memberships is a more likely solution than refunding membership fees.
"Obviously, we're going to take a huge hit," she said. "It will be the worst eight months in all my time here, but it will be worth it in the end."
Carney said the renovations would add rocks, landscaping and natural elements to the hot pools to create a tourist-drawing environment similar in feel to the Strawberry Park Hot Springs on Routt County Road 36.
"We rely on tourists to keep membership (rates) low," Carney said.
She added that the hot pool's current waterslide, built in 1981, will be torn down and replaced by two new waterslides, which will have more convenient access inside the building and require the relocation of some cardio equipment.
Renovations to the hot pools will not affect the lap pool area.
"That area, where the lap pool is, will remain untouched," Handloff said.
Carney said consolidating the center's summer water activities into just the lap pool area would require "a lot of juggling."
"Everyone's going to have to give a little," she said.
Completion of the expansions could also raise membership rates due to increased staffing and maintenance costs.
"Membership fees may go up some, but they will go up incrementally," Carney said.
Handloff said a boost in tourist visits created by the renovations could significantly offset the increased costs.
But whether the second phase of the expansion will occur still remains to be seen.
"We would love to start phase two next winter, but that's the $4 million question," Carney said. "And it all depends so much on what the city is doing."
If you go
What: Upcoming meetings hosted by the Old Town Hot Springs Board of Directors, to hear input from recreation center members about expansions to the center
When: Wednesday, noon to 1 p.m.; Thursday, 5:30 to 6:30 p.m.; Jan. 31, noon to 1 p.m.
Where: Old Town Hot Springs recreation center, at Third Street and Lincoln Avenue in downtown Steamboat Springs
Contact: Call the center at 879-1828 for more information.
To reach Mike Lawrence, call 871-4203
or e-mail mlawrence@steamboatpilot.com